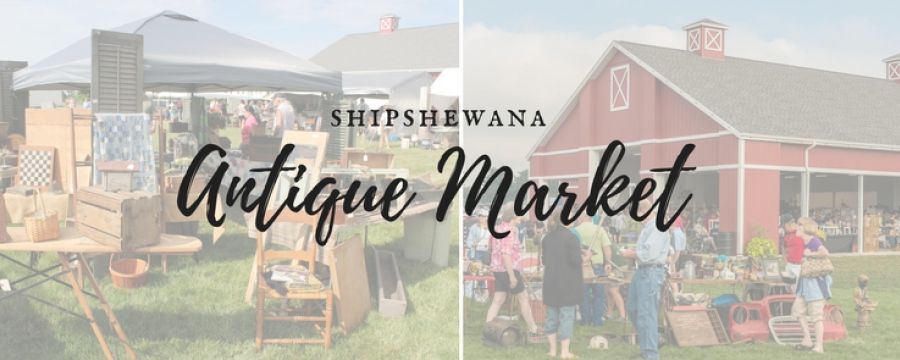 Become a Shipshewana Antique Festival Vendor
The Shipshewana Antique Festival is looking for vendors to fill the Antique & Vintage market! We are currently accepting vendors specializing in antiques, vintage and re-purposed items.
Date & Time: Saturday, August 4, 2018; 8 am - 4 pm
Location: 368 S Van Buren St, Shipshewana IN 46565 "Farmstead Expo Barn & Event Pavilion"
Description: Since 2001, the Shipshewana Antique & Vintage Market has been a successful event featuring quality antique dealers. Located in Shipshewana, Indiana, the market gives shoppers the opportunity to find antique or vintage treasures including primitives, furniture, advertising, jewelry, toys, collectibles, glassware and more. There is also music, food, door prizes and additional Antique Festival events. Admission and parking are FREE for customers.
Vendors: All merchandise offered must add to the antique and vintage experience of the Shipshewana Antique Festival. Merchandise should be from the 1970's or older, or be a repurposed item of material from the same time period. Newer items are also accepted as long as they represent the noted time period.
Antique Market Vendor Spaces & Rates
Outdoor Space(s) 20' x 25' @ $75.00
Pavilion Space(s) 10' x 15' @ $150.00
Pavilion Space(s) 10' x 20' @ $200.00
Indoor Expo Barn Space 10' x 12' with no wall: $180; with wall $195
Electricity in Pavilion or Expo Barn @ $5.00
8 foot tables @ $7.00
Reserve your space today!
Download and Print the Application online, or call 260-768-4129 to have an application mailed to you.
Questions? Contact us at 260-768-4129, or email info@shipshewanatradingplace.com.