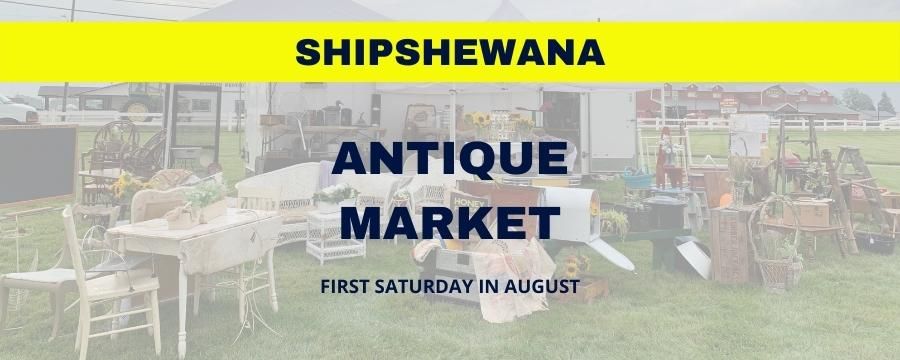 Become a Shipshewana Antique Market Vendor
We are currently accepting vendors specializing in antiques, vintage and re-purposed items for the following Shipshewana Antique Markets:
Location: Farmstead Event Pavilion, 368 S Van Buren St, Shipshewana, IN 46565
*Please note: no guns are to be offered for sale. See vendor application for details.
Shipshewana Antique Market
The Shipshewana Antique Market is held rain or shine with 100's of treasures to find under the pavilion and along the sidewalks and on the lawn. The Shipshewana Swap Meet and Shipshewana Flea Market will be held in conjunction with this popular event. Admission is free. Parking is $5.
Dates & Hours:
Saturday, August 3, 2024 @ 8am-4pm
Spaces & Rates:
Outdoor 20' x 25': $75 per space
Pavilion10' x 15': $150 per space
Pavilion 10' x 20': $200 per space
To reserve a space, a $20 non-refundable deposit per space is due upon submitting an application. All remaining balances are due by June 30, 2024. Full payment is required at time of reservation for vendors who inquire after June 30.
Extras:
Electricity: $5 per space
8' tables: $7 each
Set Up Hours:
Friday: 9 am - 5 pm and Saturday: 6 am - 7 am
All vendors are required to be open by 8 am and stay open until 4 pm. Packing of merchandise can begin promptly at 4 pm. Merchandise should fit within the "antique" or "vintage" theme.
Reserve your space today!
Download and print an application, or call 260-768-4129 to have an application mailed to you.
Questions? Contact us at 260-768-4129, or email us at info@shipshewanatradingplace.com.