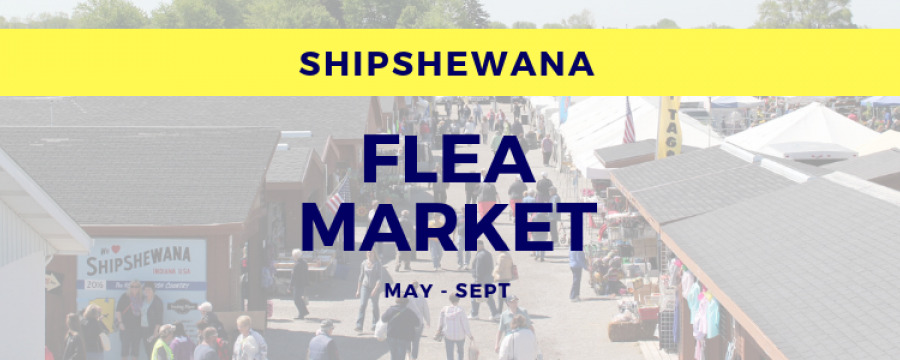 Sell at the Shipshewana Flea Market
We accept all types of merchandise! Walk-ins are welcome, or you can reserve a space by sending in your application. The Flea Market has approximately 10,000 shoppers per week.
Dates & Hours: Tuesdays & Wednesdays, May through September, 8 am - 4 pm EST.
2019 Extended Holiday Markets:
Memorial Day (May 27, 28,29); 8am - 4pm
NEW Weekend Market - Dog Days (June 14, 15); Fri 3pm-8pm & Sat 8am-2pm
Independence Day (July 2, 3, 4); 8am - 4pm
NEW Weekend Market - Mother / Daughter Day (August 16, 17); Fri 3pm-8pm & Sat 8am-2pm
Labor Day (Sept 2,3,4); 8am - 4pm
Space Fee:
Permanent / Monthly Space: $37 - 45 / week *
Paid in advance each month
Rates vary based on location
Weekly Space: $55 / week *
Available each week on a first-come, first-served basis
Daily Space: $35 / day *
Available each day on a first-come, first-served basis
*Rates are for an Outdoor Space, 25' wide by 20' deep.
Food Vendors: Please contact Nelson's at 574-862-2184 prior to reserving a space.
Amenities:
Parking is allowed on your space
Electricity is available at each space (no additional charge)
Night Watchman Monday-Tuesday nights
Free Wifi
Restrooms / Shower Building
Food / Refreshments
Pet-Friendly
* Buildings are based on availability and rented for the entire season - see Michael in the flea market office for details and rates.
* Big Top Tents are available Shipshewana Tent Rental on contract - please contact Shipshewana Tent Rental (260-768-7485) for pricing.
Vendor Set Up:
Monday, 10 am - 10 pm
Tuesday / Wednesday, 6 am - 7:45 am (Flea Market Open to Public 8-5)
To Reserve a Space:
Send in a vendor application with payment
OR Stop by the Flea Market Office with your ID, payment and copy of your Indiana retail merchants certificate. Office is open during flea market season on:

Mondays, 10 am - 8 pm
Tuesdays, 6 am - 6 pm
Wednesdays, 6 am - 6 pm
2019 Flea Market Vendor Applications will be available starting January 1. Please check back for more details!
Questions? Call 260-768-4129, email Michael at michael@shipshewanatradingplace.com, or download a copy of our vendor rules & regulations info sheet.