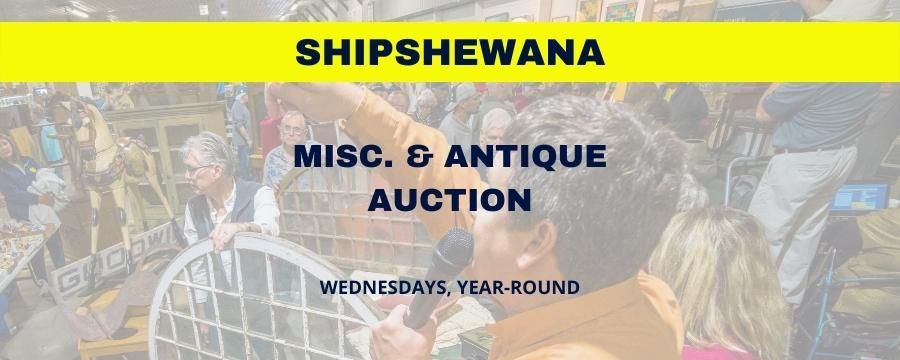 Sell at the Shipshewana Antique Auction
The Shipshewana Misc. & Antique Auction at Shipshewana Auction is held every Wednesday, year-round at 9 am. The auction is held in the Shipshewana Auction Misc. & Antique Building (an 80' by 200' enclosed facility, heated in the winter and open-air in the summer). Six to Ten auctioneers simultaneously sell antiques, collectibles, primitives, instruments, architectural salvage, toys, signs, glassware, tools, furniture, and miscellaneous items.
Seller / Consignor Information
Auction locations are reserved in advance by calling 260-768-4129 or by filling out our online Consigner Registration Form. Most locations are approximately 7' x 9' and some are approximately 9' x 12'. Tables, lighted showcases, electricity, and pegboards are available for additional fees. There is no guarantee of selling time or auctioneer.
Consignment fees are $15.00 to $20.00 per seller space. No refunds if cancelling or forfeiting space after 10am Monday before the sale (those who have not prepaid for their space will be charged the full amount.) Commissions are based on gross sales View Commission Chart.
Unloading / Set Up: Unloading times are Tuesdays (7 am - 5 pm) and Wednesdays (5:30 am - 7 am). Park where directed or in a valid parking space. Check in with auction personnel, and you and your vehicle will be directed to your auction location. Side and overhead doors are to be operated by authorized personnel only. Spots must be occupied by 7 am on Wednesday to avoid possible reissuing.
Advertising: During unloading / set up, staff will photograph items for the sale. Photos are uploaded to AuctionZip.com and captioned with the item's location unless otherwise directed. To submit photos or auction listings in advance, email your sale date, location number, listings and photos to photos@shipshewanatradingplace.com.
Auction Time Procedure: All consignors are responsible for handling merchandise at auction time. (Rep. service is available, check office for rates.) Minimum opening bid is $5.00. We encourage you to sell all items to the highest bidder, although you as a seller have the right to "no sale" items or to offer items on a reserve bid.
Seller Payout: Sellers at Shipshewana Auction get paid right away. Our goal is to have your checks available one hour after your last item is sold.
How to Become a Seller:
Call 260-768-4129, fill out our online Consigner Registration Form, or visit the auction office (Tues. & Wed.) to reserve a spot to sell items at the Wednesday Antique Auction.