Date: Dec 10, 2019
Shipshewana, Ind. — Shipshewana is now home to more than two million LED Christmas lights displayed in a 1.4-mile-long symphony of spectacular light scenes this holiday season. In its 2nd year now, Shipshewana's Lights of Joy runs select days through January 4th.
Shipshewana Trading Place and Blue Gate Hospitality have partnered with Winterland, Inc. to bring the new holiday experience to town. They kicked off the season with a community night November 8 with all admission collected going to Blessings in a Backpack and Boomerang Backpacks. This year's opening night event resulted in a total gift of $1,600 going to provide area kids (typically enrolled in free or reduced lunch programs) with a backpack of healthy foods for the weekend.
"We are honored to be part of such a giving community and proud to be a part of this extra fundraising opportunity that helps these kids throughout the school year, not just at Christmas when we typically see these needs really surface," said Brian Lambright, Business Development director of Shipshewana Trading Place.
"Shipshewana area residents are always willing to step up to help those in need. They proved that once again by giving back while getting the chance to enjoy Shipshewana's Lights of Joy," said Ryan Riegsecker, president of Blue Gate Hospitality.
Shipshewana's Lights of Joy is set up on the grounds of the Shipshewana RV Park and winds back and forth through dozens of displays. This is the second year, and is even longer and greater than the previous year, with more than 40 displays having been added since last season, including a jolly singing reindeer with a bright red nose just before the exit.
Visitors enter the grounds of the Shipshewana Flea Market on Ind. 5 and drive through the 1.4-mile course of Christmas light scenes, exiting onto C.R. 200 North.
"Shipshewana is a great location for this display because the town is already such a festive place and hosts many special holiday events during the Christmas season, giving families yet another opportunity to make new traditions in town," organizers stated.
The drive-through light display will be open to visitors select dates now through January 4th. It will be closed Christmas Eve, Christmas Day and New Year's Day. Hours of operation will be Tuesday, Wednesday, Thursday and Sunday, 6 p.m. – 9 p.m., and Friday and Saturday, 6 p.m. – 10 p.m. The cost is $15 per vehicle on Tuesdays, Wednesdays, Thursdays and Sundays and $20 per vehicle on Fridays and Saturdays. Tickets may be purchased online at ShipshewanaLightsofJoy.com or at the gate upon entrance.
For more information on Shipshewana's Lights of Joy, visit ShipshewanaLightsof Joy.com or find the Shipshewana's Lights of Joy page on Facebook.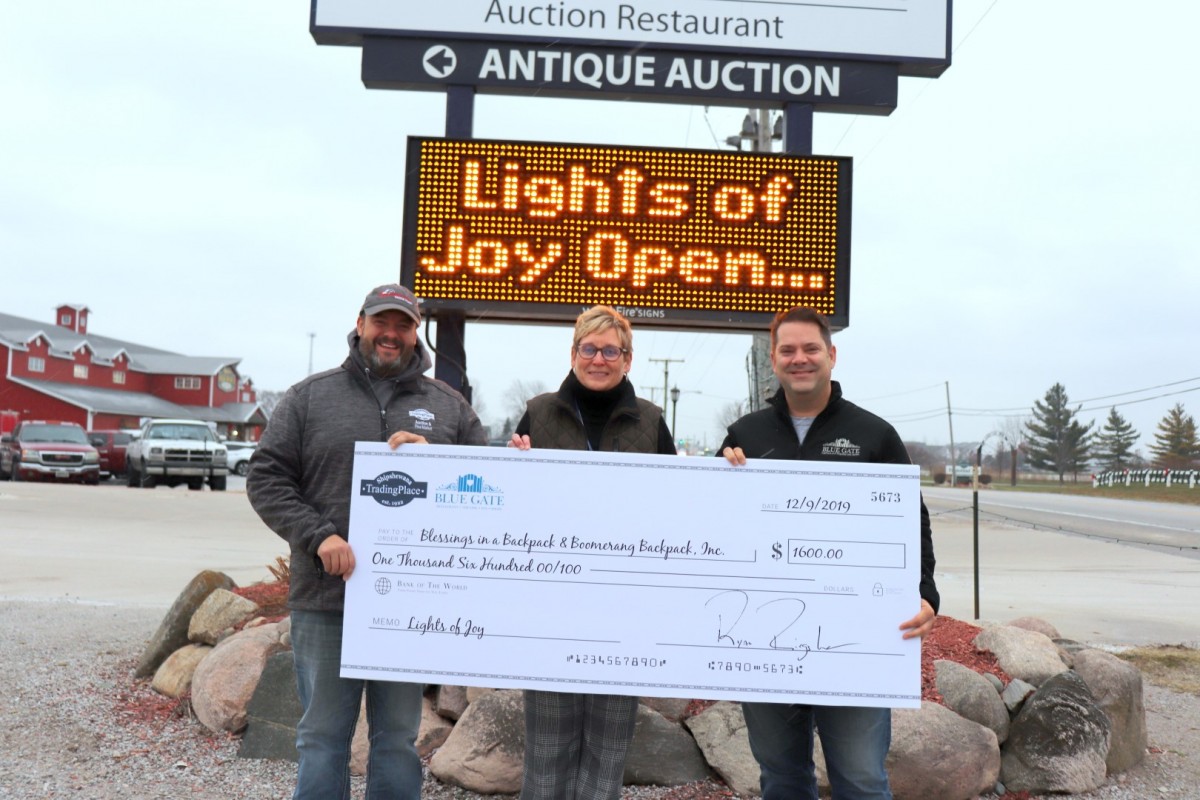 Photo Provided: Becky Siegel (Middle), Principal for Topeka Elementary School accepts donation from Brian Lambright (Left), Business Development Director of Shipshewana Trading Place Auction & Flea Market and Ryan Riegsecker (Right), president of Blue Gate Hospitality