Shipshewana Flea Market Recipe Box: Slow-Cooker Holiday Ham
Post Date: Apr 07, 2023
Learn the Cutco Slow Cooker Holiday Ham recipe that flea market veteran Janet Wiggins has to share with you from her Shipshewana Flea Market booth!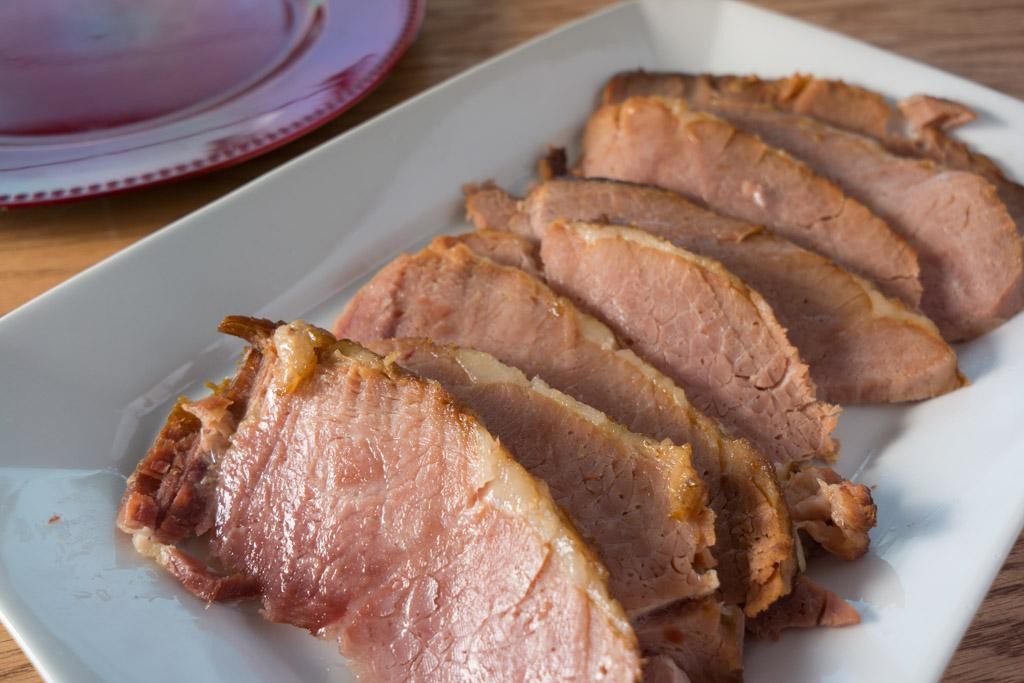 Photo and recipe courtesy of Cutco.com
Easter is a fantastic time to spend with family. This season, enjoy family and a delicious ham recipe that is sure to knock their socks off.
Long-time Shipshewana Flea Market vendor, Janet, features Cutco Cutlery at Shipshewana Flea Market in Space #704 and she shares with us one of her favorite recipes from the Cutco family.
Gather Your Ingredients
1 fully-cooked ham, approx. 7 - 8 pounds
2 cups pineapple juice
2 cups brown sugar
4 teaspoons Dijon mustard
4 teaspoons balsamic vinegar
4 teaspoons honey
2 tablespoons cornstarch
2 tablespoons water
Directions
Remove ham from packaging, discarding any flavoring packet.
Pour pineapple juice in bottom of a large, oval slow cooker. TIP: use a slow-cooker liner for easy clean-up.
Mix brown sugar, Dijon mustard, vinegar and honey in a medium bowl. Spread the mixture all over ham and place, flat side down, in slow cooker.
Cover with lid and set temperature to low. Cook ham 4 to 6 hours or until meat is tender and internal temperature reaches 140°F. Ham can be flipped and basted halfway through cooking time and again about an hour before ham is done.
When done, remove ham to a platter and tent with foil to keep warm. Skim fat and drain juices from the slow cooker into a large sauce pan and place on stove over medium heat.
Stir cornstarch into water to make a slurry. Slowly pour slurry into pot of ham juices. Allow mixture to bubble and thicken, stirring occasionally. If you want a thicker sauce, mix more cornstarch and water and slowly stir into sauce.
Serve warm, with sauce on the side or drizzled on top. *Any type of fully cooked ham can be used. Bone-in, boneless, whole or spiral cut, cured, uncured, smoked or not. You can also use a smaller ham. Simply adjust the cooking time. For example, a 3-pound ham will probably be done in 2 to 3 hours. Don't overcook or the ham will dry out. You may also want to halve the other ingredients if the ham is 4 pounds or less.
Janet says, "Cutco knives are perfect for slicing your bone-in ham". Visit her at Shipshewana Flea Market each Tuesday and Wednesday, from May through September.
Plan your trip to Shipshewana Flea Market by downloading your FREE Flea Market Trip Planner.