Date: Jul 29, 2016
Guide to the 2016 Shipshewana Antique Festival
It's your online guide to the 2016 Shipshewana, Indiana Antique Festival to be held on Saturday, August 6th.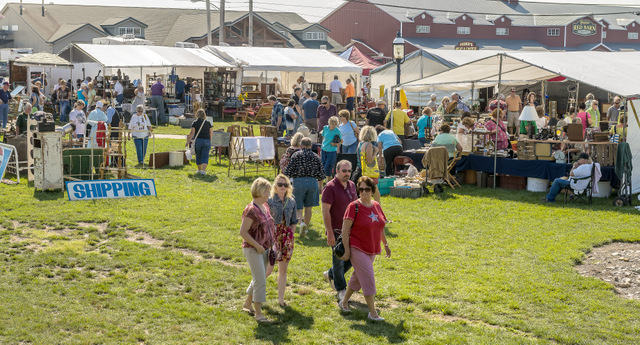 What is the Shipshewana Antique Festival?
The Shipshewana Antique Festival is a gathering of vintage lovers from all over the Midwest for a day of shopping for antique treasures. Dealers showcase their antiques, vintage collectables, jewelry, furniture, architectual & industrial salvage, glassware and much more. There is live music and food on site, and free admission and parking!
Where is the Shipshewana Antique Festival?
It takes place in the small Amish town of Shipshewana, Indiana. Most of the activities, including the Antique Market, are held on the grounds of the Shipshewana Antique Mall and under the Trading Place Pavilion. (368 S Van Buren St).
Things to Do
Shop the Antique Market from 8:00 AM to 4:00 PM. Nearly 60 vendors will be set up!
Learn how to repurpose and restore your treasures. Hugh Clark, a repurposing and restoring expert, will provide demonstrations just inside the Antique Mall. Catch both of his talks: "How to Repurpose Items" at 11:00 AM and "How to Resotre Antiques" at 1:00 PM.
Become royalty. You could be the 2016 Shipshewana Antique Queen or King. Simply answer a short antique trivia quiz to be entered to win a crown (made out of vintage postcards), a $20 gift card, and the official title. Announced at 2:00 pm.
Browse the Antique Phone Show. Nearly 100 tables full of antique telephones and parts at the Farmstead Inn (right next door). Opens to the public at 9:00 AM.
Cruise in. Yoder's Shopping Center is hosting a classic car cruise-in from 8:00 AM to 2:00 PM. Bring your vintage, classic or antique car. Free registration and door prizes.
Visit the many unique stores in Shipshewana including E & S Sales (the area's largest bulk food store), Lotions & Potions (located inside Yoder's Red Barn Shoppes), Davis Mercantile, and Blue Gate Gift Shops.
Where to Stay
The Farmstead Inn & Conference Center is right next door to all of the festivities. Modeled after an Amish homestead, the Farmstead Inn offers free hot breakfast, an indoor pool, spa, basketball court and ping pong.
What to Bring
Tape Measure
Cash
Comfortable Clothes
Bag or Packing Materials
See you on August 6th! If for some reason you can't make it, we do have one more outdoor antique market left this year on Saturday, September 3rd. Also, join our Facebook event to stay up-to-date on happenings the day of the festival!