Date: Aug 24, 2016
Shipshewana Trading Place employee wins Hoosier Hospitality Award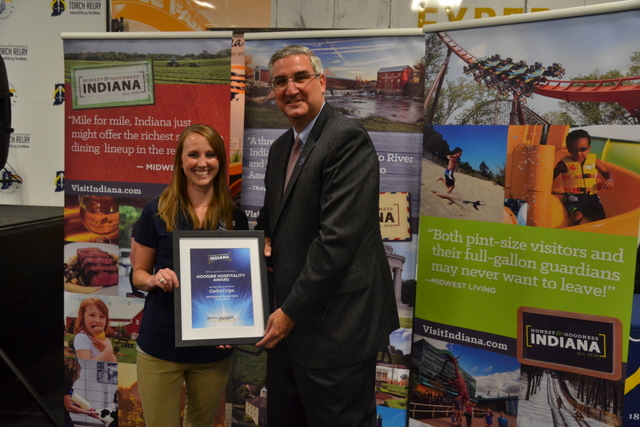 INDIANAPOLIS - Lt. Governor Eric Holcomb presented Shipshewana Trading Place's Carlie Cripe with the 2016 Hoosier Hospitality award on Friday, August 19 during a ceremony at the Indiana State Fair.
"We couldn't think of a more dedicated, positive, and talented team member to receive this high honor," said Lora Gates, Marketing Director for Shipshewana Trading Place. "She exemplifies the good hospitality and customer service that we value here in Shipshewana and throughout the whole state of Indiana."
18 representatives of Indiana's travel, tourism and hospitality industry earned the 2016 Lt. Governor's Hoosier Hospitality Award for their uncompromising service in tourism-related jobs at hotels, restaurants, attractions and other destinations.
Cripe is Shipshewana Trading Place's administrative & marketing coordinator and is responsible for assisting with executing marketing projects and events and aids all team members and Trading Place businesses with administrative support. She is also the friendly face you'll see in the Shipshewana flea market office, helping vendors and shoppers.
Nominations for Hoosier Hospitality Awards are submitted by community members and destination patrons. Nominations are reviewed and winners are selected by Indiana Office of Tourism Development (IOTD). Outstanding service is a major factor in determining whether a person returns to an individual business or destination.