Flea Market Vendor Spotlight: Taproot Tees
Post Date: Sep 11, 2017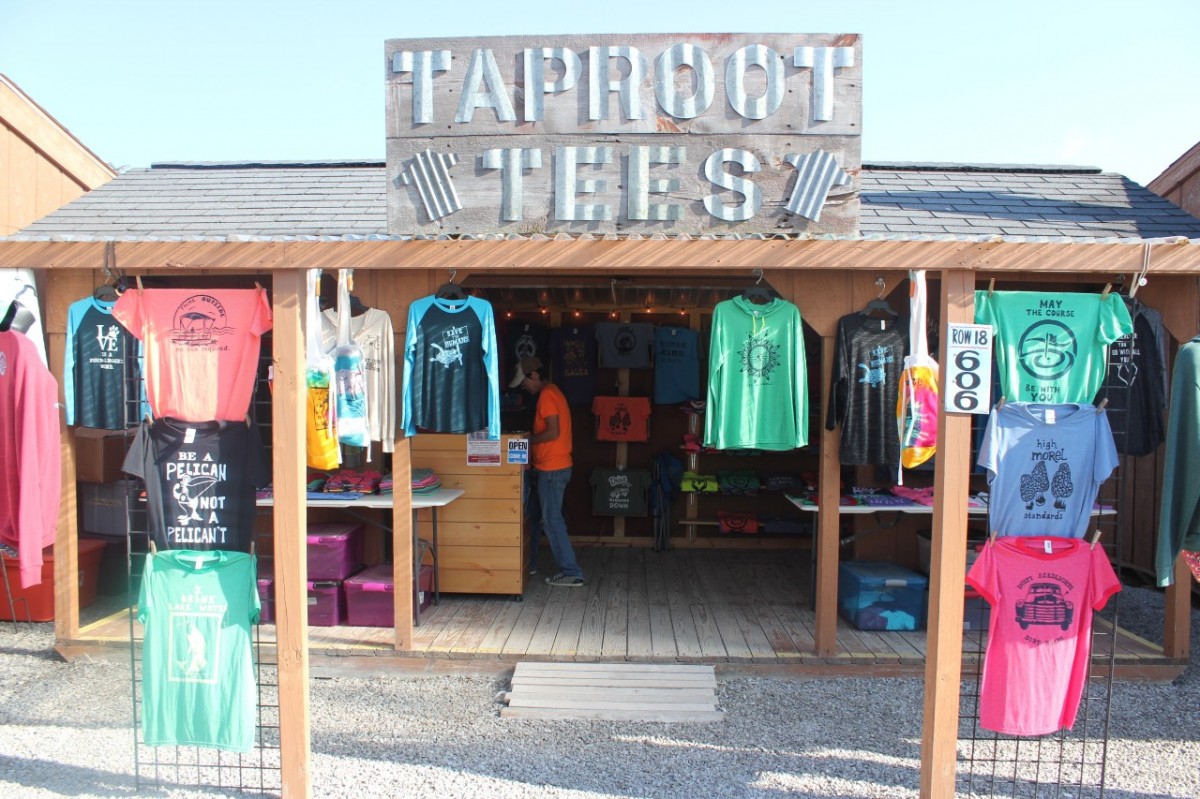 They now have an online store, a building at the Flea Market (booth 606), regular spots at local Farmer's Markets, and a packed show schedule with 12 shows a year. Check out our interview with Taproot Tees below to learn more about their products and how they grew a successful business by setting up at the Shipshewana Flea Market!
Tell me about yourself.
I'm a local artist from Columbia City, Indiana and sell hand-painted t-shirts and sweatshirts at Taproot Tees. The artwork is all original and each T-shirt has a positive and meaningful message.
What's so great about your T-shirts?
They are all painted by hand with fabric paint. The paint is water-soluble and eco-friendly. We create each design in our farmhouse the old-fashioned way with a screen. They are dried on clotheslines all over our house! The T-shirts we sell are unisex, but they fit best on women. Our sweatshirts are awesome too...they are made in California.
Where do you get your inspiration?
We see so much negativity in this world today. So many things and people are telling us negative and meaningless things, that we wanted to make an impact by making and selling positive, meaningful t-shirts. We're changing the world one T-shirt at a time.
How did you get your start?
I had done some clothing design work and decided to give selling t-shirts a start by getting a spot at the Shipshewana Flea Market in 2013. At first, I think people just bought from us because they pitied our set up. Now, we have a building (much better) and do about 12 shows a year, an online store and farmer's markets.
What's your advice for vendors just starting out?
How you arrange your booth is very important. You can't expect people to just wander in if there is nothing attractive about it.

You've also got to connect with the customers. For us, it's very rare to have both of us working our booth at the same time because we get in the habit of talking to each other, which puts the customer in an awkward spot when they have a question about a product or if they want to buy something. No customer wants to feel like they are interrupting or being an inconvenience.

It's also important to sell your items at a good price point, especially at a flea market. For us, it's not about the margin, it's about volume. We price our items based on how much it took to create the t-shirts, not on how much we think we can get out of the customer.
If you have more questions for Taproot Tees about their products or about being a vendor, connect with their facebook page, @TaprootTees.