7 Factors to Consider When Pricing Your Flea Market or Craft Show Items
Post Date: Mar 03, 2023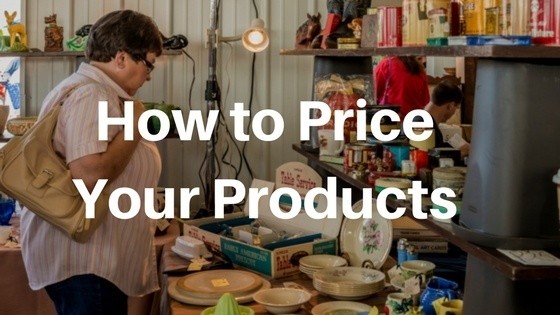 One of the biggest challenges of selling at flea markets is finding the delicate balance between the extreme ends of overcharging and selling yourself short. It can be a little overwhelming and tedious at first, but hashing out a solid selling price will increase your profit, help you achieve your business goals and create a business with a firm foundation.
You work hard for your business! Do yourself a favor and put a little work and consideration into a selling price that maximizes profit AND customer satisfaction.
7 Flea Market Pricing Factors to Consider:
Cost of Material
Cost of Labor - Yes, pay yourself for the work you do!
Wholesale Price - As a retailer, how much you bought the product for and the percent you want to mark it up. If you make your own items, what would your wholesale price be if someone wanted to buy product from you and retail it?
Overhead - Includes office and work space rent, gas expenses, costs associateds with selling at the market, or any other business expense.
Target Customer - Is your customer typically a middle-class stay-at-home mom, a college student or a retired veteran? Really try to connect with your target customer. Create a profile of the average customer that may buy your products. Learn the price ranges they are comfortable paying and gear your prices towards the top of that range. You can do this through a little experimenting, change prices slightly, not drastically. Look for trends and maximize your price through your findings. If you sell too low, customers might think your product is cheap and not worth it. If you sell too high, customers could be offended by your prices.
Desired Profit - What's the percent you want to make on each item sold? This money goes towards marketing, paying employees and covering expenses.
Selling Location - Are you selling at a flea market where people like to haggle? Or at a Craft fair where customers are looking for handmade items at a good deal? Or are you selling from a store or possibly online? Where you sell can affect your price. If you're selling at a flea market, pad the price and only negotiate to an amount you are comfortable with. Think of customers who attend craft fairs, can they pay more? Will they pay more? Just like your target customer, adjust your pricing based on the audience of your location.
Selling Price Formula
Sadly to say there is no perfect formula to plug all your factors in and viola! Your selling price! Yes, bummer… I know.
BUT, there are guides and templates that have been tested and used with other business owners. Just remember that each business is different and has its' own unique customer base, overhead and costs. What works for one business may not always work for another.
A couple of great website to give you a premise to start pricing your products would be Creative Hive Co, or Launch Grow Joy, which each have a formula and calculators for figuring out how much you should charge - especially for handmade products.
It may take time to perfect the art of pricing, but hashing out the right selling price will increase profit, achieve business goals and create a firm foundation for your business. Take some chances, experiment and learn from your observations!