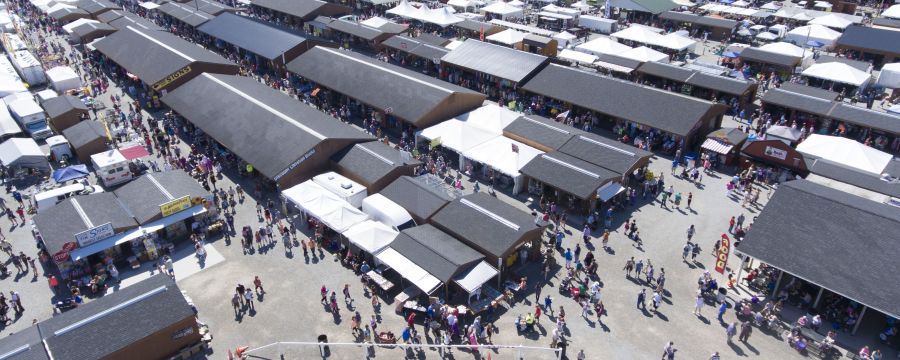 Become a Shipshewana Flea Market Vendor
Sell at a market drawing 10,000 to 15,000 shoppers each week, make life-long friendships, and grow your business.
Variety of Space Options Available for your unique business needs
Midweek Market (Tuesday & Wednesday) allowing for flexible schedules
Low Booth Rental Rates
Amenities available (electricity, wifi, food courts, restrooms)
Friendly staff
Accepts vendors with all types of merchandise
Need more convincing? Read how three vendors grew a successful flea market business.
We accept vendors with all different types of merchandise. Download a PDF of the 2018 Vendor Application.
Dates & Hours
The Flea Market opens for the 2018 season on May 1 and 2, and will run every Tuesday and Wednesday through September 26. In addition, we have Extended Holiday Market days for Memorial Day (May 28-30), Independence Day (July 2-4), and Labor Day (Sept 4-6).
The Flea Market is open to the public from 8:00 AM to 5:00 PM on all market days. Vendors may set up on Monday from 10 AM to 10 PM, or on market days beginning at 6 AM. Weeks where the market is open on Monday, early setup will be on Sunday beginning at 3 PM. All vendors must have their space tickets at entry in order to set up.
Vendor Space Options
Monthly / seasonal spaces are available beginning in May and are paid in advance each month by the last Wednesday for the following month. They can also be assigned during the season as long as they are available. To become a monthly / seasonal vendor, a $90.00 deposit per space is required, which will be applied to your first month's rent when you have been allotted a space. These vendors have the option for building and Big Top Tent locations as long as they are available. Please refer to the Rules and Regulations sheet for details. Vendors also have the opportunity for free listings in our printed, digital, and mobile app vendor directories. More advertising opportunities are available. Please refer to the vendor advertising form, which is sent out in January and due back in March.
Weekly ($55.00) or daily ($35.00) outdoor spaces are also available each week on a first come, first serve basis. Weekly or daily space can be booked in advance as long as space is available. If weekly or daily space is no longer available, you will then be put on the waiting list for no show space for that particular week or day. Vendors can reserve the same space for future weeks or days by 6 pm of the current week or day setup.
Spaces that are not occupied by 7:45 AM on Tuesday are rented as a no show space, and vendors on the waiting list must be present at the Flea Market Office by 7:30 AM each for the day or week(s) you requested. If you do not receive a space for which you requested, your payment can be refunded or transferred to a future week or day.
Become a Vendor
If you are interested in becoming a vendor, please fill out the application and send it with your payment, and we will return a receipt to you. Questions? Call us at 260-768-4129.