Flea Market Vendors: How to Choose What to Sell
Post Date: Jun 12, 2017
If you're reading this, you've probably tossed around the idea of starting your own business and being your own boss a time or two and starting to sell at flea markets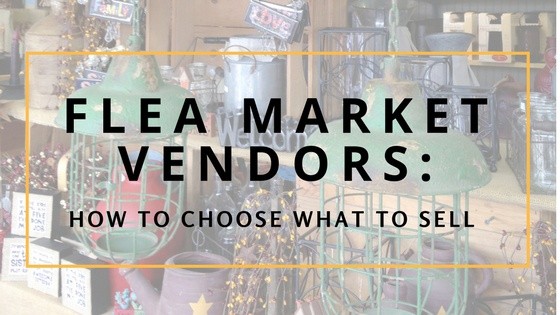 You might be one of the lucky ones and already know what product your are going to sell at flea markets. For the rest of us, narrowing down all the possibilities might be a little more of a challenge. If you're anything like me, you have a lot of interests. I mean, A LOT… (and like me, you're possibly a little indecisive too!).
Working at a flea market the last couple years has certainly opened my eyes to the vast variety of sellers. Having this opportunity, I've also made several observations while getting to know many of the vendors and hearing their stories.
So, how do you possibly narrow down the options and choose what to sell? Although I can't tell you what to sell, I can categorize some of the possibilities so it's not so overwhelming.
First, ask yourself: "Do I want to make my own products or be a retailer?"
This question will help you start shifting your thoughts down a more straight and narrow road. There are lots of different and interesting options for each selling opportunity. You may already know you prefer one over the other, or you might not know which direction you want to go yet. Either way, I encourage you to read through both possibilities to help guide your decisions.
Make Your Own Products
If you'd like to be a crafter and make your own products, then great! Now, it's time to consider these following six categories:
Current Trends: if you have a wide interest, following current trends might be a great option for you. It'll help you hone-in on select items to make as well as give you the option to make several different types of products. Don't know what's trending? Just get on Pinterest, Etsy or even visit a local craft sale.
Your Passion: There's no greater motivation than passion, and no better way to live your life than working with something you're passionate about.
Original & Unique: Two words, two different meanings, but somehow still connected. If you are insightful and creative, start developing your own product line of unique items (ever heard of pet rocks?). People love originality and quirky things, not to mention unusual and unique gifts!
Consumable: Not just edible, but usable! Yes, one way to get customers coming back time and time again is to sell consumable items. This includes not only baked goods or things you can eat, but product you use up. A great example of this for someone wanting to make their own goods would be bath and body products. Lotions, soaps, bath bombs etc. are all consumable items that customers "use up".
Personalized: It seems as if people these days like to have everything designed just for them. If there's a way to personalize our things and have it designed to suite our wants, we will definitely shell out the cash for it!
Needs: Know of any needs in your community, online or at your local market? Maybe your ideas, creativity and originality can fill a need that's not currently being met by other products. Or perhaps a lack of a certain product at your local flea market could mean an opportunity for you!
Become a Retailer
Here are a few categories to get you thinking about the different avenues of products you can sell as a retailer.
Your Interests: If there is something you are interested in… say, something like home decor, then you have a pretty good start already. Like having a passion, having an interest in what you sell is a great motivator. After all the hard work you put into your business, having an interest in what you sell will keep that hard work going.
Current Trends/High Demand: If you're a little more pop-culture oriented and are able to stay on top of what's hot… or maybe you have an intuition for the next big thing, perhaps selling on-trend items and high-demand items is the right fit for you.
Consumable: An example of something consumers "use up" in a retail sense might be items such as: paintball ammo, craft supplies, pharmaceutical goods, etc.
Closeout: Purchasing closeout items at a discounted rate is another popular way to buy products and sell at different markets. Finding opportunities to purchase large quantities of product from companies that are closing their doors is a great way to increase your profit margin.
Needs: There's always a need for something, so capitalize on it! Go to your local flea market and figure out what's not being sold or offered there. If it's not there, there's probably a need for a particular item that's not being met.
Whether you choose to make your own products or become a retailer, running you own craft/flea market business takes a lot of time and hard work.
Advice? Give it a try and give it time.