5 Questions Every Vendor Should Ask Before Selling at a Flea Market
Post Date: Mar 17, 2023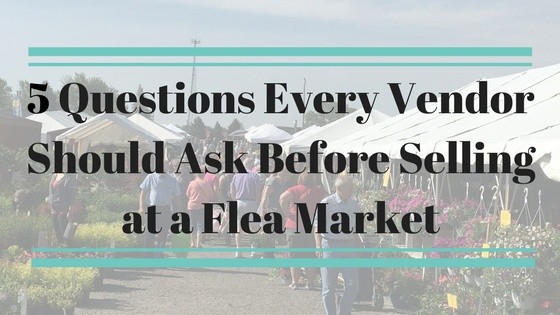 The first step to begin selling at flea markets is to choose a venue to sell your products. Finding a place to sell your products doesn't have to be a challenge, and it's important to make yourself aware of all the different possibilities you have to choose from. Start by making a list of your needs and wants like how much space you'll want or whether you want an indoor or outdoor market.
https://www.fairsandfestivals.net/states/IN/
http://www.indianafestivals.org/
Before selling at a flea market, you must decide which market is best for you. So, how do you go about choosing? Below, I've compiled a check list of what to look for in a market to ensure it's right for you.
One of the best ways to decide if a fair or flea market is good for you is to actually go and check it out first (of course, this is a little more probable if you live within close proximity to the show!). Visiting the market first also gives you a chance to see the type of products other vendors are selling as well as get a feel for the customer base that regularly attends. You'll see how other vendors set-up their booths and get a feel for the atmosphere.
If you aren't able to attend the show, check out these 5 questions you need to know before you commit to a market.
Call or visit their website/Facebook page. Ask and look for answers to these 5 questions:
1. How many customers attend each day/week?
The number of customers will help you gauge the stock of product you will need to bring with you to the show, and will give you an idea of the size of the show. Some vendors only like to partake in larger shows, some prefer small shows. Asking the regular number of show attendees will help guide your decision if the show is right for you.
2. Is the market indoor or outdoor?
This is a big question. Preparing for an indoor show vs. an outdoor show is very different. Some vendors are fully prepared to participate in an outdoor market. For other vendors, it can be a little more of a challenge especially depending on your product type. If the show is outdoors, I suggest investing in a sturdy pop-up canopy, stakes to hold it down, and your own tables.
3. What type of items are usually sold (Misc. Items, Antiques, Handmade, Artisan Goods, etc.)?
Sometimes markets and fair are geared towards one genre. Whether it be an Antique Market where only antiques are allowed, or flea markets where almost anything is allowed, make sure the markets you are thinking about fit in with your products.
4. How does the venue market/advertise the event?
One question people don't commonly ask is how the venue markets their shows. The more marketing efforts put into a show, the better outturn there will be of not only customers, but quality vendors.
5. Is there an information page with rules and regulations?
Having an informational page that contains the markets rules and regulations is a great resource. It may tell you the size of your space, if it comes with a table or if you need to bring your own as well as set-up and tear-down times and procedures. An informational page will more than likely answer any other questions you might have as well.
As I stated earlier, it's best if you are able to visit the market on a first-hand basis, but if you aren't able to attend the show, asking these five questions will help you narrow down the possibilities and find a market that is right for you.
Want a great place to start your search? Check out some of these resources on where to sell: