Flea Market and Craft Show Vendor Packing Checklist (You're Going to Want This!)
Post Date: Jun 10, 2022
If your planning to sell at an outdoor flea market in the near future, you'll want to be as prepared as possible. Sometimes you can get by on improvising, but it's best to plan ahead on what you'll need.
Especially if you're a first time flea market vendor!
Take the time to stay organized and have a packing checklist of what to bring on hand. It'll help you feel less stressed and more prepared for the show.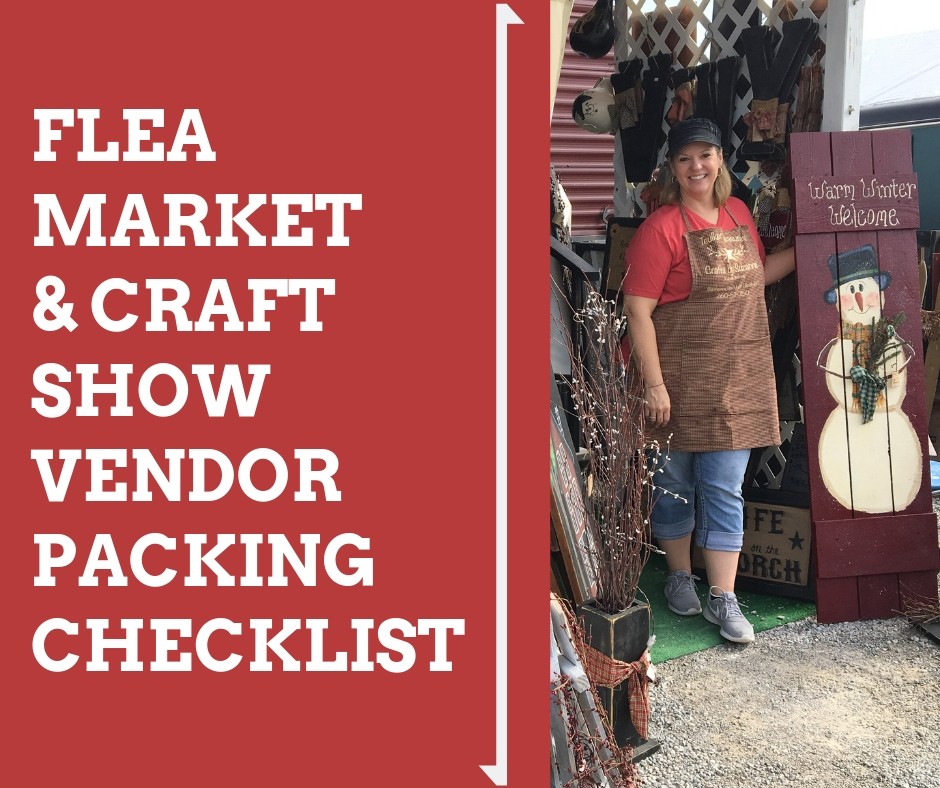 What to Bring and What Not to Bring
Don't over-do it on the supplies, one type of tape is enough, and don't bring your whole refrigerator. Less is more and figuring out what to take and what to leave is key.
Do jot down notes from each show to help you hone in on the most important supplies you need to help make each show as rhythmic and routine as possible.
Flea Market Vendor Packing List for Outdoor Markets
I've compiled a sample flea market vendor packing list to prepare you to set up at an outdoor market. You may also download a printable PDF packing list.
Take it with you, jot down your own notes, and stay organized!
Display / Set Up Items
Product (bring more than you think you'll sell)
Tent or Canopy
Canopy Weights
Ropes / Bungee Cord
Tables
Tablecloths
Clamps
Display Racks
Lights
Display Accessories / Decor
Extension Cord / Power Strip
Signs
Totes for Extra Product
Point of Sale Items
Cash Box
Lots of Change
Credit Card Reader
Phone or Tablet
Chargers for Devices
Calculator
Bags for Purchases
Tissue Paper or Bubble Wrap for Purchases
Notebook
Pens / Pencils
Price Tags
Sold Stickers
Promotional Items
Business Cards / Flyers
List of Upcoming Shows
Clipboard for Email Signups
In Case of Weather Items
Tarp or Plastic Sheets
Umbrella
Sunscreen
Sunglasses
Hat
Personal Items
Box of Kleenex
Extra Clothes
Comfortable Shoes
Snacks
Small Cooler
Re-fillable Water Bottle
Ibuprofen
Mosquito Repellent
Overnight Items
Shipshewana Flea Market has showers located near Gate 21 north of the Auction Building and are available for vendor use on all scheduled Market days including set up dates.
Things you may wish to bring when staying overnight include:
Basic Toiletries
Lightweight Pajamas
Change of Clothes
Miscellaneous Items
Scissors
Scotch Tape
Measuring Tape
Folder
Trash Can / Trash Bags
Cleaning Supplies
Paper Towels
Small Tool Box
THE most important thing...
Don't forget your SMILE! Shoppers want to shop from happy people!
And remember, one of your greatest sources of information is networking with other vendors, grabbing advice from a neighbor and seeing what works best for them -- try it for yourself and see if it works for you!