5 Things You Should Know About the Shipshewana Flea Market Before Becoming a Vendor
Post Date: Dec 09, 2022
If you're thinking about setting up a booth at the Shipshewana Flea Market, we've compiled a guide that will prepare you for your first time vendor experience. Here are five facts you need to know.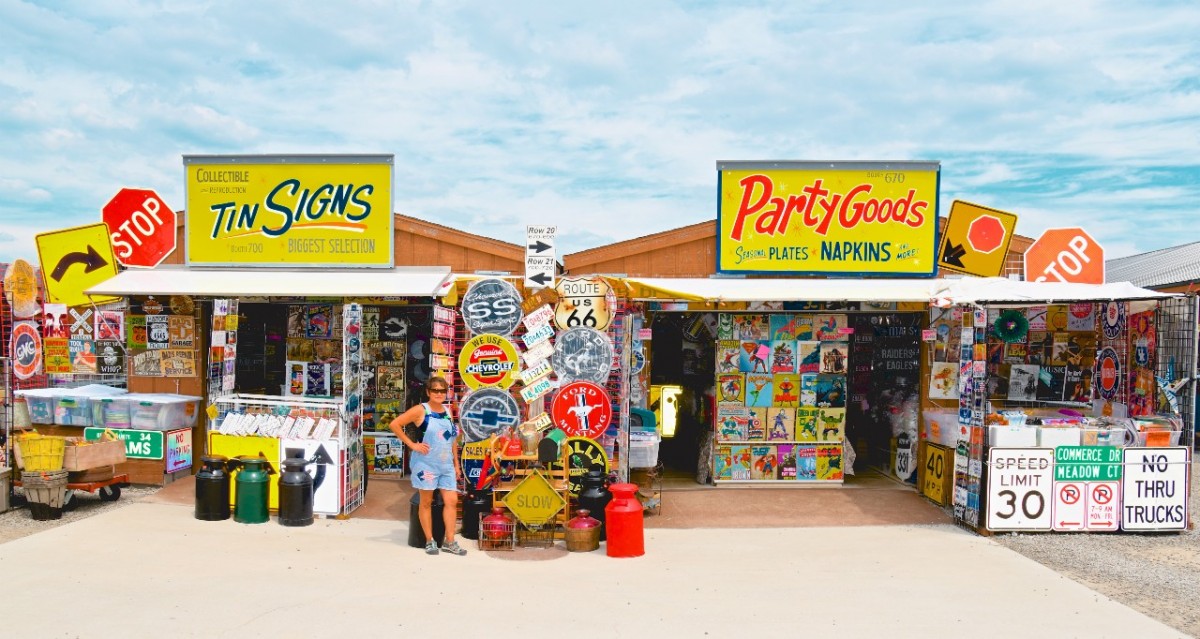 Do some research ahead of time. Find out about the town, what the market grounds are like, what days/hours the market is open, who the average shopper is and any other important information that may affect your business!
1 - Location Information
The flea market is located in the town of Shipshewana, Indiana. Shipshewana is a small, Amish community in Northeast Indiana. It is less than 200 miles from Chicago, Detroit, Indianapolis, Grand Rapids and Toledo. The Indiana Toll Road (I-80/90) passes through the northern fringes of the county (LaGrange) and serves Howe and LaGrange with exits 107 and 121. US 20 connects Shipshewana and LaGrange to Elkhart and Angola. Indiana State Highways 3, 5, 9 and 120 also pass through the county.
The flea market itself is located in the heart of the town, off of the main highway (SR 5). It's centrally located for easy access to other attractions.
The other shops in town are geared towards tourists and sell mostly home décor items and some antiques. Because of the Amish traditions and heritage, most of the businesses are only open until 5:00 - 6:00 pm at night, and most are closed on Sundays.There are lots of local cafes and restaurants to eat at, but not many chains. For example, the only fast food restaurant in town is Subway! There are a couple of grocery stores that close by 5:30 - 6:00 pm, and those are E&S Bulk Foods, and Forks County Line Store.
Although it's small, Shipshewana becomes a bustling, traffic-heavy town on Tuesdays, Wednesdays and Saturdays. Be sure to watch out for buggies and bicycles as you drive!
2 - Flea Market Grounds
Shipshewana Trading Place sits on a 100 acre lot. Forty of those acres is dedicated to the Shipshewana Flea Market with nearly 700 vendor booths. The flea market grounds is made up of gravel and limestone and is sectioned off into 25' wide x 20' deep vendor spaces (See our map here).
Some vendors set up outside, some are inside permanent buildings which have closeable garage doors on the front, and some vendors choose to have a big top tent or canopy on their space. There is also a "farmer's market" aisle with plants and produce located towards the Southeast side of the market.
There are several food courts (pavilions with picnic table seating) located throughout the flea market, as well as, a sit-down restaurant. Full-season vendors receive a discount at most food locations with a VIP vendor card. Find a delicious variety of food options from the following food stands and locations:
Shipshewana Auction Restaurant: Also referred to as the "Sale Barn Restaurant," this sit-down restaurant located at the main entrance to the property, serves up delicious home-style Amish and Mennonite cooking and the best pie in town to auction & flea market customers and sellers (it also has Air Conditioning!).
Backyard Barnyard: "The Best of the Farm." Breakfast offered from 7:00-10:30 am featuring breakfast sandwiches donuts and cinnamon rolls. For lunch, Beef Tips & Mushrooms, Broasted Chicken, and Hoosier Tenderloin Sandwiches, and more!
The Finer Swiner Diner: Features Mishler's Pork Burgers, Pork Chop Sandwiches and Nelson's™ award winning pulled Pork sandwich.
The Chicken Shack: Nelson's™ Famous BBQ Port-A-Pit chicken is served here along with Nelson's™ Chicken Tenders, Pulled Chicken Wraps, and More.
Mobile Eats: Food Trucks gather here each week offering a variety of foods for the market shoppers.
These are just a few of the items featured at each food court. Vanilla soft serve cones and cups can be purchased at any food court along with Pepsi and water products. Your favorite pie and pie a la mode can also be purchased.
Other important places on the flea market grounds include the flea market office where you'll check in and make rent payments, the restroom / shower facilities, the Antique & Miscellaneous Auction Building, and the information booth. Please see the flea market map for location details!
View Tips from Seasoned Vendors
3 - Hours of Operation
The Shipshewana Flea Market is a seasonal summer market, open to the public each Tuesday and Wednesday from May through September, 8 am to 4 pm (ET).
It is also open for extended holiday markets on Memorial Day, Independence Day, and Labor Day, as well as special weekend markets. See all dates & hours.
Vendors are welcome to come and set up on Mondays from 10am-8pm, or Tuesday/Wednesdays from 6am-8am.
As a courtesy to our customers, all vendors must remain open for shopping from 8am-4pm. We are a rain or shine market!
4 - Average Shopper
The average shopper here at the Shipshewana Flea Market is approximately a middle-aged to elderly female. Although we've had visitors from all over the United States, most customers come from within a three-hour radius. There are several bus and motorcoach groups who make annual trips as well. During June and July, we do see many young families come through, as well as, bargain shoppers and those looking to find something unique and original. And don't forget about the locals (including Amish).
Vendors at the flea market sell everything under the sun from bargain items, to crafts, to tools, to home decor. It's up to you to find what works for your niche.
The busiest part of the season is Memorial Day through Labor Day, and the extended market weeks. On a weekly basis, we have an average of 10,000-12,000 shoppers come through on Tuesday and Wednesday combined.
5 - Lodging & Camping
Did you know vendors can save money by camping on Mondays and Tuesdays right on their rented space? The Flea Market area is to be quiet from 11:00 PM to 6:00 AM. Or, lots of vendors choose to reserve a site at the Shipshewana RV Park which is right next to the flea market grounds.
Not into camping? There is also a beautiful hotel with free breakfast and an indoor pool directly across the street called the Farmstead Inn.