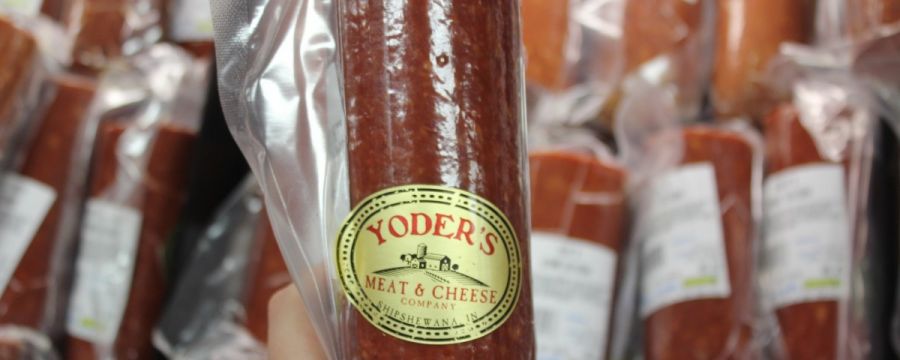 It's a "Man-tinerary!" Grab your buddies for a great trip in Indiana's Amish Country and bond over good food, good bargains and the great outdoors. Here are a few ideas on things to do for men in Shipshewana.
Ideal for Men.
3 Days, 2 Nights
Day 1 (Friday)
3:00 p.m. - Check into the Farmstead Inn & Conference Center.
It's a huge hotel with stone fireplaces that is modeled after an Amish homestead. With free breakfast, an indoor pool, 1/4 court indoor basketball, and ping pong tables, the hotel offers everything you need. Not only that, but the Farmstead Inn is located right across the street from the Shipshewana Auction & Flea Market and is the closest hotel to downtown.
3:30 p.m. - Silverstar Leather
Check out the handmade leather belts, handbags, key chains, money clips and gun holsters sold at Silverstar Leather. They also specialize in exotic leather wear, so you'll never know what you'll find.
4:30 p.m. - Visit Yoder's Shipshewana Hardware
Browse and shop at one of the few remaining "old-fashioned" hardware stores, located inside Yoder's shopping center. While you're there, head across the hallway to the department store, where you'll find a variety of workwear, plus an old-fashioned shoe store with real shoe salesmen who will measure your feet for the perfect fit.
5:30 p.m. - Dinner at Blue Gate Restaurant
Fill up on Amish-style fried chicken or mashed potatoes - or stuff your face at the Blue Gate's famous buffet! For dessert, try a slice of one of their many homemade pies.
Day 2 (Saturday)
10:00 a.m. - "Amish Crack" Donut Run
Start your day by taking a short drive west to the famous Rise N' Roll Bakery & Deli for a dozen of their famous cinnamon caramel donuts and free coffee.
11:00 a.m. - Yoder's Meat & Cheese
Visit Yoder's Meat & Cheese in Shipshewana for over 150 cuts of meat and 80 varieties of cheese. Did I mention FREE SAMPLES?
11:30 a.m. - E&S Bulk Foods Store
This is an Amish bulk foods store you must see to believe. E&S has unbelievable deals, a huge variety of foods and baked items, and an awesome deli / ice cream counter. The foods available at this grocery store is so unique...you'll find many items that you've never seen before.
12:30 p.m. - Yoder Popcorn
Try the renowned tiny tender popcorn and other many varieties of unpopped popcorn.
1:00 p.m. - Lunch at Wana Cup
Slurp on a frosted mug of old-fashioned homemade root beer and enjoy a classic meal at this friendly diner in Shipshewana.
3:30 p.m. - Go Golfing at Heron Creek Golf Club
Make a tee time for you and the guys at nearby Heron Creek Golf Club in LaGrange.
7:00 p.m. - Dinner and Drinks at Fireside Craft Burgers & Brews
Located in downtown LaGrange, Fireside has amazing craft burgers and brews.
Day 3 (Sunday)
11:00 a.m. - Paddle the River
Rent a canoe or kayak and paddle the Pigeon River or the Fawn River.