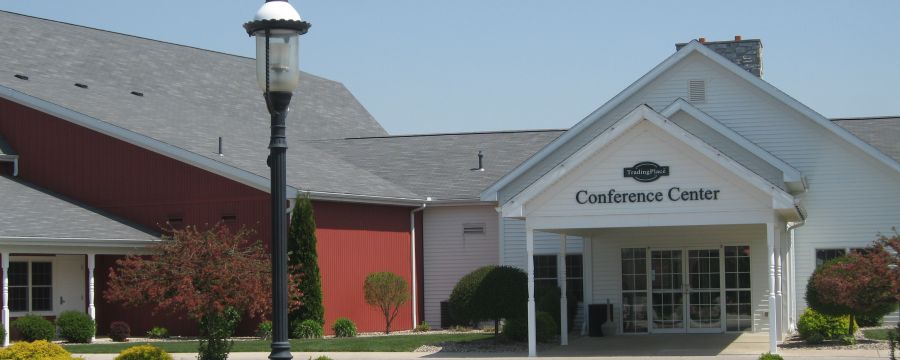 Sq Ft: 6200
Accommodates: Theatre: 500; Classroom: 250; Round: 300; Banquet: 400
Farmstead Inn & Conference Center
The Farmstead Inn & Conference Center in Shipshewana, Indiana offers a gorgeous setting with excellent amenities for business meetings, corporate retreats, fundraisers, dinners, quilt retreats, scrapbooking retreats, weddings, reunions, church groups or parties. Located in beautiful and relaxing Amish country, the Farmstead Inn & Conference Center is directly across the street from the Shipshewana Auction & Flea Market and within walking distance to downtown shopping, restaurants and theatre.
A variety of types and sizes of conference space is available to fit your event's size and budget.
Farmstead Inn Available Conference Spaces
A, B, D, or E = 38' x 27'
A&B, D&E, or C = 38' x 55'
ABC or CDE = 76' x 55'
ABCDE = 114' x 55'
Conference Room 1 = 27' x 23'
Conference Room 2 = 18.5' x 29.5'
Red Barn Up (above the pool) = 47' x 21'
Amenities
Catering & Beverage Services
Various seating arrangements
Separate break-out meeting rooms
Audio-visual equipment and projection screens
Staging
Lodging packages
Wi-Fi
Tables & Chairs
Quote Request Form
Please fill out the form below for pricing specific to your event! Our staff will contact you shortly with a quote.
Other Shipshewana Event Venue Options: Farmstead Inn Expo Barn, Farmstead Inn Event Pavilion, Shipshewana Auction Misc. & Antique Building, and Auction Restaurant.