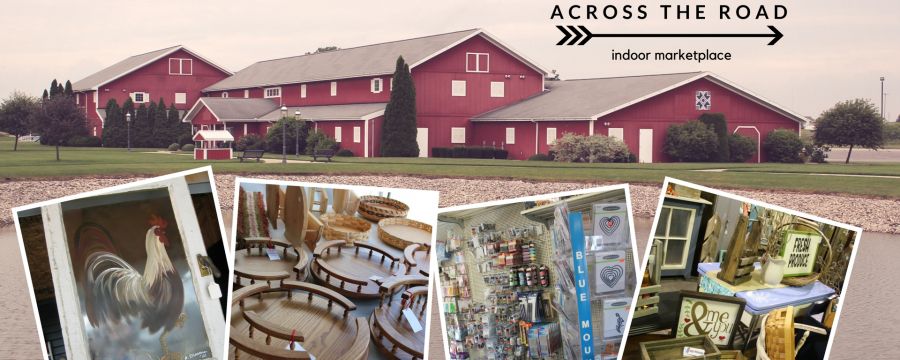 Shipshewana Across the Road Indoor Market
Friday, November 3rd
10:00 AM - 11:00 AM
The Shipshewana Across the Raod Fall Indoor Market is a unique holiday shopping experience! We are expecting to have around 50 to 60 unique booths. Shoppers can expect to see a small-scale indoor version of the outdoor Shipshewana Flea Market with unique gift items, a selection of local crafts, and a variety of other goods.
Shipshewana Across the Road will be open to the public on Fridays and Saturdays from October 6 - December 16, 2017, 10 am - 5 pm. It will feature the "Best of Shipshewana" where shoppers will find unique items you won't find anywhere else. Enjoy holiday shopping from your favorite Shipshewana Flea Market vendors, as well as a selection of local vendors. See vendors
Location: Farmstead Expo Barn (368 S Van Buren St). Admission and parking are free!
Vendor List - Friday & Saturday, Nov 17-18
Please note, these vendors are subject to change at any time without notice.
All About Time- Watches & Watch Repair, Handbags
All About You Boutique - Inverted umbrellas
Art by Marlene - Vintage/Antique furniture, Health and Wellness products, assorted teas
Burt Green - Sunglasses, fit overs, polarized
Cindy Open Book - Cold weather gear, Corian cutting boards, new & used books
Countryside Sales - John Deere and Ertl farm toys and gifts
Crafty Creations - Kitchen & Baby items; Holiday Candy
Creation Corner - Gemstone Jewelry, minerals, crystals, geodes
Cutco - Cutco Cutlery & Gadgets
Donny Do Go - Dip and soup mixes
DoTerra - Essential Oils
Emmatown Gifts - RC Toys and drones, bicycles, wind spinners
Frame Goods - Framed prints/pictures
Green Meadow Bird Houses & Feeders - Poly Bird Houses & Feeders
IBS Sales - Luggage, Travel Bags, Totes, Fleece Blankets, bed sheets
Jo's Crafts - Antiques Glassware, goose clothes, rugs, small wood crafts
JoStar Clothing - JoStar Apparel and Accessories
LeafFilter - Gutter Protection; home improvements
LulaRoe - Leggings, tops, cardigans
Mandy's Harvest - homemade butters/spreads, mustards, salsas, pickles, sauerkraut
Millers Hobby Shop - handmade tables, benches, signs
Mummphy's Book Nook - New & used books, Adult coloring books
Nila's Goat Farm - Goat milk soaps and lotions, hand made hats/scarves/sweaters
Norm the Artist - Painted windows, saws, etc…
Outdoor Adventures - Resort and Travel services
Panthers Lair - Silver Arts; Local Honey
Panties by Mary Lou - Ladies panties and undergarments
Pine Corner Merchandise - All occasion gifts, greeting cards, puzzles
PK & Sons Enterprises - Lawn & Garden Décor; Holiday & Home Décor
Sandy's Creations - Seasonal and holiday décor
Scentsy - Scensty Products & Craft items
Seasonal Treasures - Boutique clothing & jewelry; Christmas ornaments & décor
Sewin Fun Creations - Interchangeable Snap Jewelry
Specialty Tin Signs - Advertising & Collector signs
Stamps N More - Stamping & Scrapbooking
Sweets by Robin - Decorated cookies/goods
Tags N Things - Pet supplies, customized name tags, pet strollers and play pens
Taproot Tees - Hand painted T's, long sleeved shirts, sweatshirts
Teaberry Wood Products - Wood Crafts, Baskets; Seasonal Décor
The Handmade Shop - Doll Clothes, dish cloths
The Napkin Place - Paper plates, napkins, party supplies
The Sticker Shop - Scrapbooking, stamping, stickers, adult coloring books
Thirty One - Bags, purses
This N That Décor - Home Décor; Lawn Décor; holiday gifts
Vinees Statues & Gifts - Concrete lawn ornaments/décor
Zija International - Health & Wellness products
2017 Across the Road Market Dates & Hours
October 6 & 7: 10am - 5pm
October 13 & 14: 10am - 5pm
October 20 & 21: 10am - 5pm
October 27 & 28: 10am - 5pm
November 3 & 4: 10am - 5pm
November 10 & 11: 10am - 5pm
November 17 & 18: 10am - 5pm
November 24 & 25: 10am - 5pm
Tuesday, November 28: 2pm - 8pm (Wana Night Out Town-wide Shopping Event)
December 1 & 2: 10am - 5pm
December 15 & 16: 10am - 5pm