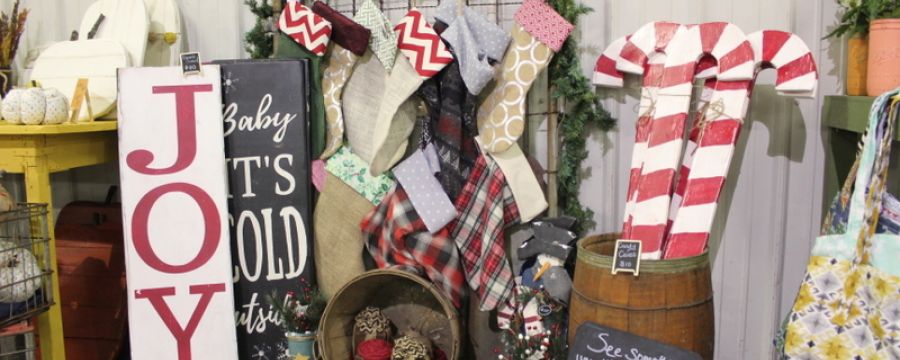 Ship-Chic Craft & Vintage Show Holiday Bazaar
Saturday, December 9th
9:00 AM - 3:00 PM
Grab your girlfriends for a fun shopping day in Shipshewana for the 2nd annual Ship-Chic Craft & Vintage Show Holiday Bazaar! 80+ awesome vendors inside the heated and enclosed Shipshewana Auction Misc. & Antique Building.
HOLIDAY BAZAAR - DECEMBER 9, 2017, 9AM - 3PM
345 S Van Buren St, Shipshewana IN
The Ship-Chic Holiday Bazaar is a curated pop-up market hosted by the Shipshewana Auction & Flea Market that will feature AMAZING vendors with gifts, vintage items, home decor, crafts, clothing, accessories, beauty products, jewelry, baked goods, signs, and more! Children's book signings by author Jeremy Wenning.
Old stuff, new stuff and awesome stuff all picked with quality in mind.
$5 Admission (9am-12pm); $3 Admission (12pm-3pm) at the door.
Free Parking
Children 12 & under Free
First 100 Shoppers will receive a free "My Shipshewana Shopping Bag" reusable tote
All door prize drawings will take place before 12pm.
Live music
Food Vendors
Vendor List
Vendors and products subject to change at any time without notice and is partial.
Dunbrokus Ranch - Primitives
Light of Mine - Wood signs
Dave Keammerer Woodcrafts - Folk Art Santa Claus, other Miscellaneous Christmas and Winter Decorations, Handmade Shaker Oval Boxes
Wilma Burr - Table Runners, Crocheted Hats, Scarves, Towels, Large Bags, Bottle Spinners, Child's Aprons, Dish Cloths, Mittens
Origami Owl Custom Jewelry - Lockets, Charms, Rings, Earrings, Bracelets, Watches
Totally Unique Boutique - Sewn Baby Boutique Items, Nursing Covers, Nursing Pads, Nursing Arm Pillows, Bibs (Infant; Standard Food Bib sizes), Burp Rags, Wash Rags, Receiving Blankets, Ribbon Breys, Binky Bibs, Infant Seat Covers, Shopping Cart Covers
Clean Craft Soapworks - Hand Crafted Soap, Sugar Scrubs, Bath Bombs, Lotion Sticks, Body Butter
Jenny Diehm's Fruit Pizza LLC - Pulled Pork Sandwich, Chicken Salad Sandwich, Soups, Scalloped Potatoe and Ham, Fruit Pizza, Desserts, Soda, Coffee, Water
LipSense - LipSense by Sene Gence Cosmetics and Skin Care Products
Agape Missions - Summer Sausage, Beef Jerky, Beef Snack Sticks, BBQ Sauces, and BBQ Rubs
Nate's Beef Jerkey - Beef Jerky Made from our own Beef Cows, Hormone Free, 10+ different Flavors
Treasures from Nepal - Handcrafted Jewelry made by Rescued Women living in Nepal
Fun Embroideries - Machine Embroidered Items, Quilted Table Runners, Potato Bags, Small Quilts, Miscellaneous Quilted and Embroidered Items
Minke & Dwight - Sewn/Knit/Crocheted Home Items, Dish Cloths, Towels, Scrubbies, Coffee Cozies, "Unpaper" Towels, Scarves and Hats
Krafty Krap - Folded Fabric Ornaments, Folded Paper Stars, and Snow Flakes
MTK Creations - Crochet Items: Hats, Earwarmers, Dishcloths, Purses, Etc. Primitives, Signs
Sassi Snaps - Interchangeable Snap Jewelry
Scentsy - Warmers, Wax, Oils, Diffusers, Car Bars, Buddies, Scent Circles, Scent Packs
Try Again Basement Sale - Pyrex, Kitchen Items, Golden Books
Stitches N Times - Memory Products, Glass Blocks (Lighted), Ornaments, Memory Signs
Uncommon Threads - Polar Fleece Doggie Blankets for Children, Polar Fleece Shrugs, Jewelry Bags, Cotton Knit Wash Cloths, Brazilian Embroidery on Denim and Other Items, Dog Bed/Blankets, Polar Fleece Children Slippers, Hot Pad Sets and Vintage Aprons
Absolutely Alexandria LLC - Cute and Colorful Ceramic Coffee Mugs
Teulker's Treasures - Handpainted Country Gifts and Decor, Handmade Jewelry
Tracy's Designs 1 - 18" Doll Clothes, Deco mesh Wreaths, Crocheted Hats
RV Enterprise - Bird Houses, Handmade Crafts
Kelli Klingerman - Handcrafted landscaping stones
Simply Rustic by Crissy - Handmade Wooden Crafts - Signs, Arrows, Photoboards, Pumpkins, Candy Canes, Holiday Decorations, Painted Ball Jars with Wooden Boxes, etc.
Mary Kay - Skin Care, Cosmetics
Blooming Essence LLC - Aromatherapy, Jewelry and Accessories
Perfectly Posh - Perfectly Posh Pampering Products, Soap, Lotion, Bath Bombs, Natural Skin Care
Barnyard Primitives - Cabinets, Benches, Snowmen, Pumpkins and other Primitive Decor
Ray of Light Holistic Health - Essential Oils, Lotions, Body Butter and Room Sprays, Inhalers
Applewood Antiques - Vintage, Repurposed, Shabby Chic, Some Repurposed Crafts
2 Chicks and a Chair - Repurposed Furniture and Steampunk Tables
Happening Gifts
Tangled Gumption - Macrame Decor and Accessories
Garden Gate Jewelry & Gifts - Handmade Jewelry - Bracelets, Earrings, Necklaces, Pendants, Yard Art made from Spoons, Forks, Knives
LulaRoe
Joyful Creations - Handmade Crocheted Items
Two Sisters - Crocheted Sweaters, Hat, Blankets, Small Quilts, Pillows, Handmade Dolls, Teddy Bears, Holiday Decor, Miniature Replica Bird Houses, Purses
Gilleyflower - Handmade Baby Items: Bibs, Burp Cloths, and Minky Baby Blankets
Lively by Samira - Crocheted Scarves, Hats, Blankets, Headbands and other Accessories and Gifts
Coco Publications - Children's Book and Book Signing
Frame Goods - Pictures and Picture Frames
Apron Strings - Handmade Aprons
Ask Nancy! - Homemade Jams, Chutneys, Seasonings, Baking Mixes and Baked Goods
Paparazzi Accessories - $5 Jewelry, Necklaces, Earrings, Bracelets, Rings, Kids Items and Mens Items also Available. Some Hair Accessories.
Master's Ink - Pens and Other Turned Items. Laser Engraver for Personalizing Items
Dani J's Jewelry Designs - Handmade Necklaces, Bracelets, Wirework Pendants, Earrings
The Perfect Piece - Boutique Clothing, Hand Knitted Scarves, Hand Knitted Ear Warmers, Handmade Jewelry, Decorated Canvas Boards
The Kool Handmade Krafty Mommas - Rfid Wallets, Grocery Totes, Infinity Scarves, Scarf Bling, Handmade Greeting Cards, Money Cards, Gift Card Holders, Seasonal Earrings, Seasonal Signs, Discovery Bags, Marble Mazes, Homemade Playdough, Fabric Memory Games, Fabric Puzzle Pieces, Wine Bottle Gift Bags
Fireside Cafe - Fudge
Yours, Ours & Mine, LLC - Corn Hole Tosses, Embroidery Towels, Quilted Pieces such as Wall Hangings, Christmas Ornaments and Decorated Trees, Misc. Christmas Items, Fleece Blankets, Chocolate and Peanut Butter Fudge.
Happie Girl, LLC - Handsewn Tote Bags/Weekender Beach Bags, Wine Sleeves, Hand Painted Childrens Aprons and Pillows. Handmade Happie Girl Necklaces
Press On Boutique, LLC - Handmade Handbags, Engraved Jewelry, Custom Shirts, Tumblers, Farmhouse Style Decor, Other Handmade Home Decor and Accessories
P!phany and Pink Zebra - P!phany Clothing, Leggings, Tops, Dresses, Palazzo Pants, Pink Zebra, Candle Warmers, Soy Candle Sprinkles, Lotion, Jewelry, Candles
Perfect Chic Mobile Boutique - Country, Christian and Chic Boutique Clothing, and Accessories
Ricc's Designs - Handcrafted Wood Items, Bowls, Birdhouse Ornaments, Wine Stoppers, Coffee Scoops
Ceramics by Randy - Finished Ceramic Pieces, Snowmen, Holiday of all types Ceramic Pieces
Meredith Isenberg - Holiday Handmade Wreaths and Frames
Rachel Atkins - Thirty-One
Janet Wiggins - Cutco
Vintage Seams - Vintage Fashions Including Sweaters, Blazers, Outerware, Scarves, Accessories, Quilts, Blankets and Afghans
Blessings & Baubles - Sterling Silver and Stainless Steel Rings
Rings & Things - Repurposed Silverware to Jewelry, Hand Painted Old Roof Slate Tiles, Barbedwire/Used Beads, Crosses and Misc. Handcrafted One of a Kind Items.
Roses & Raspberries - Kitchen Towels, Aprons, Pot Holders, Clothes Pin Bags, Placemats, Runners, Tea Cozys, Cloth Books
Simply Sisters - Handmade, Unique Holiday and Home Decor
Charming Michiana - Custom Laser Engraving, Cutting Boards, Coasters, Memory Lockets with Floating Charms
Quilt Me Baby Shop - Knitted Gloves, Hats, Blankets, Quilted Table Runners, Quilts, Baby Items
Alecia Ellenich
Leathered Designs - Inspirational Christian Shirts, Men Ladies and Babies (Designed and Made)
Barbara Wolf - Christmas Decor, All Different Sizes of Snowman, Inspirational Signs and Baby Burpies.
Olde Roots - Small Furniture, Vintage Chic Trunks, Suitcases, Signs by "Addie Grace", Galvanized Items, Handcrafted Items
Junk Drawer Jewelry - Silverware Jewelry, Vintage Tape Measure Bracelets, Wood Shelves, Key Jewelry
Miss Chic - Clothing & Accessories
Wild Berry Crafts - Ornaments, Lighted Glass Blocks, T-Shirts, Beer Mugs, Wine Glasses, Stocking Stuffer Items, Tissue Jars, Shelf Talker Signs
Naomi's Candies - Gourmet Chocolates, Caramel Chocolate Apples, Caramels
Fire in the Garden Lampwork Beads - Original Handmade Lampwork Beads, Jewelry and Accessories
Sandra Wellman - Wood Peppermills, Wood Bowls, Large Pegboard, Chalkboards, Stainglass Items, Wood Crosses, Sleighs, Wreaths
Custom2YouDesings - On-Site Customization of Water Bottles, Mugs, Shirts, Plaques, Lap Trays, Halloween Candy Buckets, Fall Items, Tumblers, Pencil Boxes, Ceramic Apple, Ceramic Pencil, Handmade Jewelry, Etc.
Black Sky Creations - Handmade Dolls and Figurines, Handcrafted Jewelry, Doll Houses and Miniatures, Hand Embroidered Purses.
Jennifer Hicks - Shabby Chic Decor, iPad/Cookbook Holders, Repurposed Items.
Gary Nieter Pottery - Handcrafted Pottery. Wheel-thrown Mugs and Birdhouses.
CC Creations - Christmas Ornaments
Little Heart Company, LLC - Handcrafted Wood Home Decor
The Wine Ladies Designs - Vinyl Lettering on Wine Glasses, Beer Mugs, Wood Signs, Etc.
Jim Larimer - Log Furniture and Woodcrafts
Nana's Workshop - Hand Painted and Crafted Items: Scrubbies, Towels, Toys - Knitted and Crocheted, Baby Blankets, Primitive Decor, Painted Yardzees, Wood Gag Gifts, Dish Rags, Pot Holders, Pad Holders Etc.
Two Sisters Gourmet Dips - Gourmet Dips, Desserts, Dipping Oils, Wine and Drink Slush Mixes
Longaberger Baskets - Longaberger Baskets, Fabrics, Pottery, Glassware and Wrought Iron Pieces