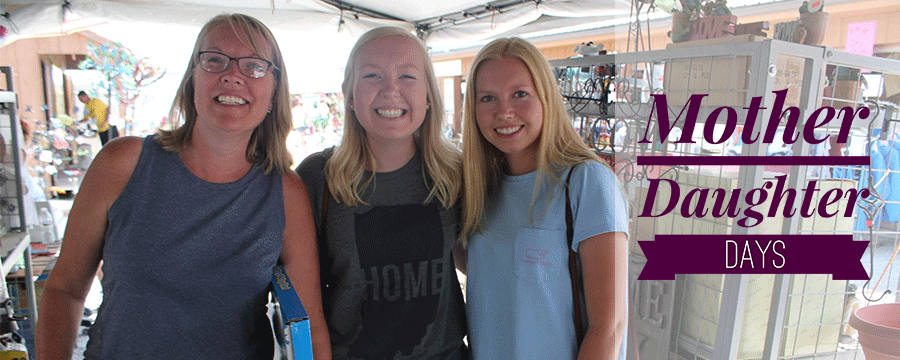 Weekend Flea Market - Mother Daughter Day
Friday, August 16th
3:00 PM - 8:00 PM
Bring your Mama to Shipshewana!
The Shipshewana Flea Market will be open August 16 & 17 for a special Mother / Daughter weekend event!
(You do not have to be a mother/daughter to attend.)
Shop the bargains and unique vendors at nearly 700 open-air market spaces. Eat delicious food, browse the market booths, and make memories with your family or friends!
Friday, August 16: 3pm-8pm
Saturday, August 17: 8am-2pm
Open rain or shine.
Special Events:
Mother / Daughter Lookalike Photo Booth Contest

Think you look like your mom or daughter? Enter the photo both contest on Friday or Saturday! Visit the yellow Shipshewana mural (in between Gates 1 & 2 near space 438) to get your photo taken by our staff photographer. Then, visit us on Facebook to see all of the photos and vote for your favorite by "liking" it! The photo with the most likes will win. Winner will receive a free overnight stay at Shipshewana's Farmstead Inn & Conference Center.

Succulent Planter Workshop - Saturday, 10-11am

Learn how to create your own succulent planter and also how to care for your succulents! Grab a girlfriend and join us for a fun time creating your very own succulent masterpiece! The workshop will be available on Saturday at 10am at Rest Area 2. Advance Purchase Tickets Required to attend. Get Tickets Here

Swap Meet Garage Sale Section

Head to the North Parking lot on Saturday (daylight - 1pm) to shop the Swap Meet vendors! These vendors feature a variety of used items.

Fry Pie & Specialty Drink Special at Fry Pie Booth

Buy 1 fry pie for $3.50 - get one free drink
Buy 3 fry pies for $9 - get two free drinks

Handmade Trail Challenge

Visit and check-in to at least 10 handmade vendor booths on the Shipshewana Trading Place mobile app, and claim your free flea market wooden paintbrush pen!

Door Prize Giveaways

Sign Up at the Information Booth (Gate 1) to win hourly door prizes including free meals and $20 market cash!
Find out More:
For more questions, or to become a vendor, call the Shipshewana Auction & Flea Market at 260-768-4129!