Why This Group of Ladies have been Coming to Shipshewana for 25 Years
Post Date: Jul 05, 2017
I had the pleasure of getting to meet most of the members of the Shipshe Gang last week while they visited the Shipshewana Flea Market. They wore matching T-shirts to commemorate their 25th anniversary of shopping Shipshewana, and were jovial about their 3-day trip.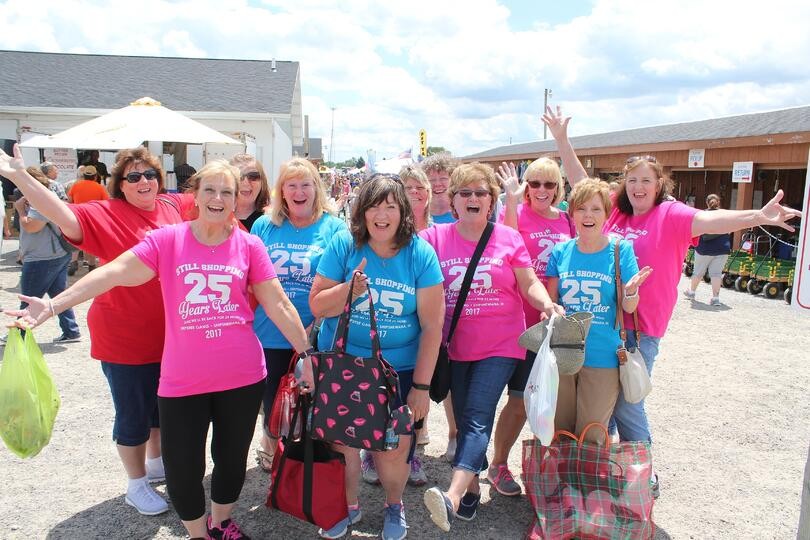 Gangs in Shipshewana? Yes, believe it or not.
A group of women, who have lovingly called themselves the "Shipshe Gang" has been visiting Shipshewana and the flea market for 25 consecutive years!
And they don't plan on quitting anytime soon.
So what keeps this group of cousins and friends from Memphis, Michigan coming back year after year?
"We love the atmosphere of the town, and we love getting together!" says Claire, the unofficial organizer of the Shipshe Gang.
When asked which booths they like to shop at the flea market, some favorites include:
As Seen on TV (Gadget & Game Depot, booth 552 / 580)
Unique Collections (Clothing, booth 563)
Shipshewana Spice Company (Spices, herbs, seasoning blends, booth 646)
"We just like walking around and seeing what's new and what things people are selling."
After shopping the flea market, the Shipshe Gang likes to visit other attractions and restaurants in Amish Country. They enjoy eating a big dinner at the Essenhaus in Middlebury, stocking up on baked goods at Rise N' Roll, getting a pretzel from JoJo's, shopping Our Front Porch, and getting ice cream at Fireside Cafe.
Once their full day of shopping and eating is complete, they relax and retire at the Farmstead Inn & Conference Center. The group has been staying at the hotel since it first opened in 1998. They love the Farmstead Inn for the indoor pool and for it's location! (It's conveniently located across the street from the flea market and within walking distance to other shops, restaurants and attractions in Shipshewana.)
Thank you, Shipshe Gang, for your faithful Shipshewana visits! We can't wait to see you again next year.