There's Nothing Better than Paddling These Two Rivers Near Shipshewana
Post Date: Feb 24, 2023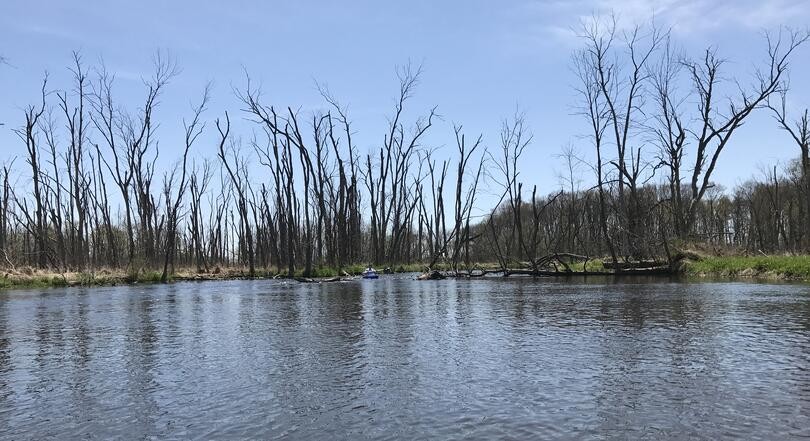 One great way to take advantage of the spring and summer seasons is to paddle one of the amazing waterways that meander near Shipshewana, the Fawn River and the Pigeon River.
Ahhhh...Spring Fever and Summer adventures! If you're like me, there's nothing better than getting outside to enjoy the beautiful sunshine and nature during the warm Indiana months.
There is just something about being out on a river in a canoe or kayak that makes you feel at one with nature (and helps you channel your inner Pocohantas). Luckily, Shipshewana has several area canoe and kayak rental places to help you relax for a day on the river - plus, most are open on SUNDAYS, which is a rarity here in Indiana Amish Country!
1. T&L Country Canoes (Fawn River)
Conveniently located right in Shipshewana, Indiana, T&L Country Canoes is a great place to visit for a leisurely and exciting trip down the scenic Fawn River - the same way the Potawatomi Indians used to do for hundreds of years!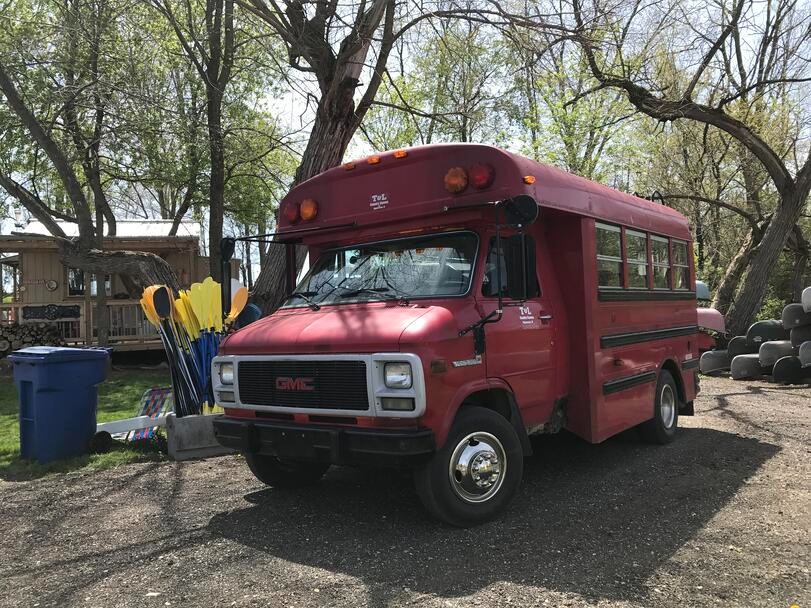 They offer several different trip lengths depending on how adventurous you are (or how much time you have). We decided to take the two-hour trip, and rented two single kayaks. You could also rent a canoe.
Once we checked in (no reservations needed unless you're renting 8 or more vessels), we climbed into T&L's shuttle which took us on a short trip up river where we would launch. The owner was very friendly, telling us stories about trips on the river and about how he started the business. Once we arrived at our launching point, we were given instructions about getting back to where we parked. He also helped us safely load and gave us a push to get us started!
My kayak had a handy place for a water bottle, and plenty of room in the bottom for snacks or a cooler for longer trips. I found the that my back didn't get too sore in the kayak, as long as I propped up my life perserver and used it as a sort of back rest.
Paddling this stretch of the Fawn River was so relaxing as the river pretty much allows you to float the whole way without having to paddle! (Although I like to get a little of an upper-body workout while I'm out there). We saw a ton of wildlife including birds, geese, ducks, and our favorite, turtles! I even got startled by a large beaver rustling around on one of the banks.
At the end of the trip, there is a fountain that you can paddle under, which would have been perfect for a hot summer day. (It was early May when we went). This kayak trip was fantastic and T&L Country Canoes took care of us very well!
2. Trading Post Canoe, Kayak & Campground
Drive about 20 minutes east of Shipshewana, and you'll arrive in Mongo, Indiana at the Trading Post Canoe, Kayak and Campground. Check in at the office, and you'll be given the option to take one of six canoe and kayak trip options, all along the Pigeon River Fish and Wildlife Area.
We chose to take the Curtis Creek trip in two single kayaks, which is about 7 miles, or two and a half hours. It's one of the more popular trips, and takes you downstream to Nasby Dam, then through a scenic section to a wooden bridge.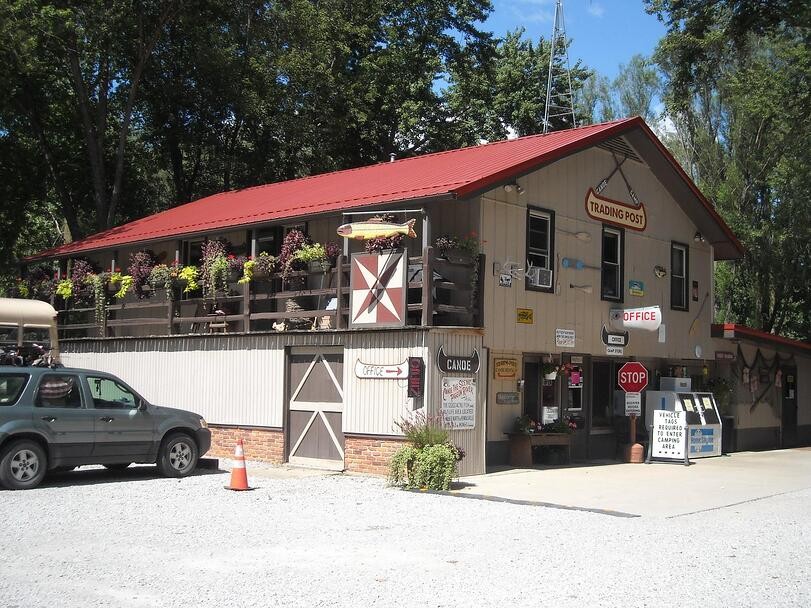 Photo: Trading Post Canoe and Kayak / Facebook
For this trip, we started right at the Trading Post (no shuttle needed). They gave us a map and instructions on portaging over Nasby Dam. We were told to call the office once we reached our destination so they could pick us back up and drive us to where we parked, along with our boats.
Kayaking the Pigeon River was just as peaceful and relaxing as the Fawn River. We saw many turtles that plopped in the water as we approached. Once again, it was as if you didn't need to paddle at all as the river calmingly takes you downstream on its own! (Great for lazy summer days).
Unfortunately, it started to sprinkle when we were near the Nasby Dam point, and a storm was heading our way. So, we decided to give the Trading Post office a call in order to get picked up early and avoid the rain. We were glad we did! Just as we got back to the office, the rain let loose! We laughed imagining us still out on the river in a rain storm.
Trading Post Canoe & Kayak is a very well-run business, and they'll help you have a fantastic day of adventure on the Pigeon River. I can't wait to go back and maybe even try their "Refuge Bridge" trip which is 13 miles long!
Shipshewana, Indiana may be known more for the unique shopping and world-class entertainment, but go just off the beaten path to find some amazing things to do outdoors too!