Six Shipshewana Stops We Can't Get Enough Of
Post Date: Apr 01, 2022
I have put together a list of some of my favorite Amish Country stops for your next Shipshewana, IN getaway. There is nothing more relaxing than a fun day in Shipshewana, Indiana, with my two youngest kiddos. We hope you enjoy these fun things to do in Indiana as much as we do!
My kids' zest for life makes even the simplest of outings entertaining and fun every time, no matter how many times we repeat some of the same trips.
Even though we live here year-round, we can't get enough of some of the Shipshewana shops and restaurants here in Shipshewana! They have become traditional Saturday day trips for us.
Put all six of our favorite stops together, and you'll have a day of amazing shopping, delicious treats, and fun things to do in Indiana's Amish Country.
Stop 1: Simple Sounds at the Davis Mercantile
My kids love anything musical. Especially drums...which of course must be banged loudly at all hours! So our first stop is usually at Simple Sounds (located on the main floor of the Davis Mercantile).
They sell acoustic stringed instruments and musical gifts to please the talented, not-so-talented, the young and the old! We love testing out the instruments and even learning to play the dulcimer. We can't seem to leave Simple Sounds without picking up a kazoo, harmonica or boom stick.
Stop 2: Kitchen Cupboard at the Davis Mercantile
Whether you are a tea drinker or coffee drinker you'll love a stop at Kitchen Cupboard. Ok, let's face it even if you don't like coffee or tea, you are sure to find a treat to please your taste buds!
Our family favorite is the Cookies & Cream Frappe. Don't forget to get the large and make sure you ask for an extra straw for sharing :).
My kids love to see who can sip the most of their icy drinks without getting brain freeze!

Stop 3: Hand Carved 1906 Denztel Carousel at the Davis Mercantile
This is truly a hidden gem - and perfect for kids of all ages! On the 3rd floor of the Davis Mercantile is a stunning carousel full of beautifully painted animals that reflect Shipshewana's heritage.
A fun ride on the carousel is sure to take you back in time and put you in a restful and whimsical mood. When you go, don't forget cash to buy tokens and the more you buy the more you save, so invest a $10 or a $20 and put the extra tokens in your change purse for your next visit.
Stop 4: Lunch at Millie's Market Café at the Davis Mercantile
Did you know that you can dine outdoor on the rooftop of the Davis Mercantile? Just across from the carousel is one of our favorite places to eat - Millie's Market Cafe. Eat on the roof and take in the beautiful local ambiance (it's so much fun to people watch, or in our case, horse and buggy watch!). If the weather is less cooperative, you can always eat indoors among the vintage tables and decor.
Millie's Market offers delicious homeade soups, salads, sandwiches, and of course, pie! They even have trivia cards and table games to pass the time while you wait on your favorite meal (mine of which is the Orchard Chicken Salad). Make sure you try the burgers which are great too...YUM!
Stop 5: Shopping Downtown
Looking for an amazing place to shop in Shipshewana? You won't want to miss a single store around downtown. Offering vintage and antique items, a little bit of old mixed with a little bit of new, and some pretty unique finds and specialty stores, the combination is extraordinary.
My children must be old souls because they just love looking at the fun items (especially the vintage and antique items). Where else can you find some of those neat old items great grandma used to have that the kids have never seen before? The stores all over downtown have become a must stop on my shopping outings for sure!
This cute parlor set was a great find at Country Elegance, a local shop downtown, and you never know what you'll find since they're always circulating new items.
For even more antiques, you have to check out the weekly Misc. & Antique Auction in Shipshewana that takes place every Wednesday, year-round. You'll find all kinds of unique finds because every week the barn is filled with something totally different!
Stop 6: Shopping Local
My family is always up for taking a drive through beautiful Indiana Amish country to visit one of the many local stops that are sprinkled throughout the area. We love the sights we see along the way, plus we find the most unique items! Just make sure you take the time to plan a little in advance.
You will often see roadside stands selling home grown vegetables in the Summer or pumpkins in the Fall. Feel free to stop and make a purchase according to their posted hours for sale. And don't miss some of my favorite Shipshe stops for ice cream and special treats like Vanilla Bean Creamery (YES, they have a Shipshewana location and they are even open on Sundays!) You have to check out the Ice Cream Flights!
Not up for the country drive? Tuesdays and Wednesdays from May through September, you can also visit Shipshewana Flea Market for a selection of local vendors or even check out the seasonal Swap Meets held select Saturdays in April, May, June, August, September and October.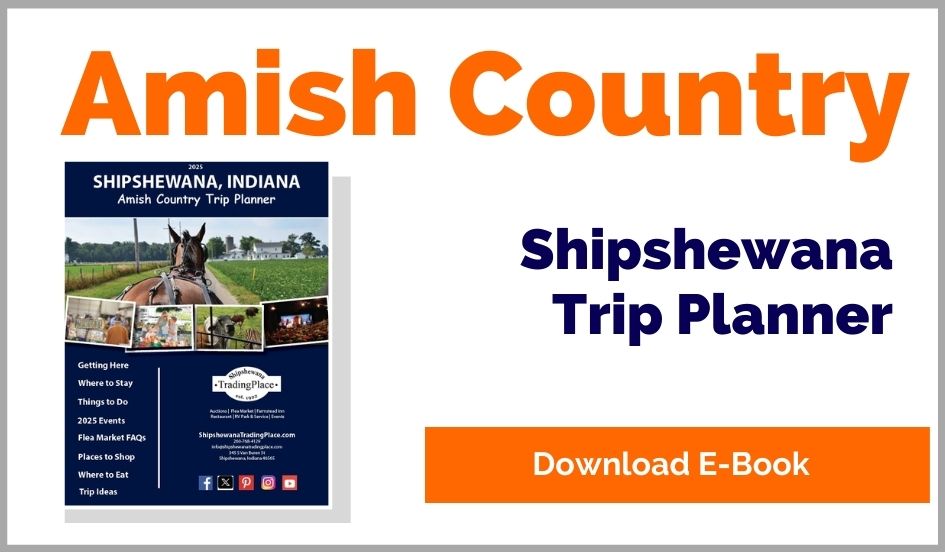 You can also check out Trails & Tours, a resource from our local visitor center and take a drive Off the Beaten Path in Lagrange County, Indiana, where you will discover even more great things to do with your family on an Indiana getaway to Amish Country.