Recipe Box: Thanksgiving Leftovers Panini
Post Date: Nov 25, 2022
Thanksgiving Day is always full of so many delicous foods. So many, that you often have an abundance of food but have trouble with ideas for using them up.
Long-time flea market vendor, Janet, features Cutco Cutlery at Shipshewana Flea Market in Space #704 and she shares with us another favorite recipe to help with just that from the Cutco family.
Ingredients
2 tablespoons Dijon mustard
2 slices bread (ciabatta, sourdough, Italian or your choice)
2 slices sliced Swiss cheese (I used thicker slices)
1/3 cup shredded roasted turkey
3 tablespoons cranberry sauce
1/3 cup leftover stuffing
2 tablespoons room temperature butter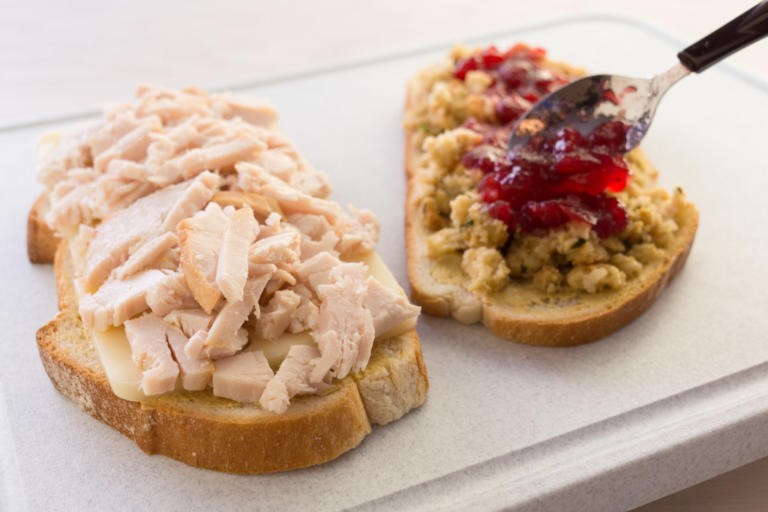 Photos and recipe courtesy of Cutco.com
Directions
Spread mustard on both slices of bread; put a slice of cheese on one piece. Arrange the turkey on top of cheese and place stuffing and cranberry sauce on the other slice.
Put the 2 halves together and spread the top side of the bread with 1 tablespoon of butter.
Place the sandwich, butter side down, onto a hot panini maker, grill pan or skillet over medium heat. Spread the top with the other tablespoon of butter.
If using a panini maker, grill the sandwich until the bread is golden and crusty, the fillings are hot and the cheese is melted. Flip the sandwich and grill the other side.
If using a grill pan or skillet, weight the sandwich down with another pan and grill per instructions above.
Helpful Cutco products for this recipe include the 7-3/4" Petite Slicer; the Large Cutting Board and the Spatula Spreader all available from the Cutco product line.
Plan your trip to Shipshewana Flea Market from May through September by downloading your FREE Flea Market Trip Planner.