Kid-Friendly Recipes Featuring Fresh Produce
Post Date: Jul 10, 2020
Shipshewana Trading Place is home to the largest flea market in the Midwest, and we are proud to feature our Farmer's Market vendors who offer fresh seasonal produce, including tasty fruits, vegetables, baked goods, and other foods each season.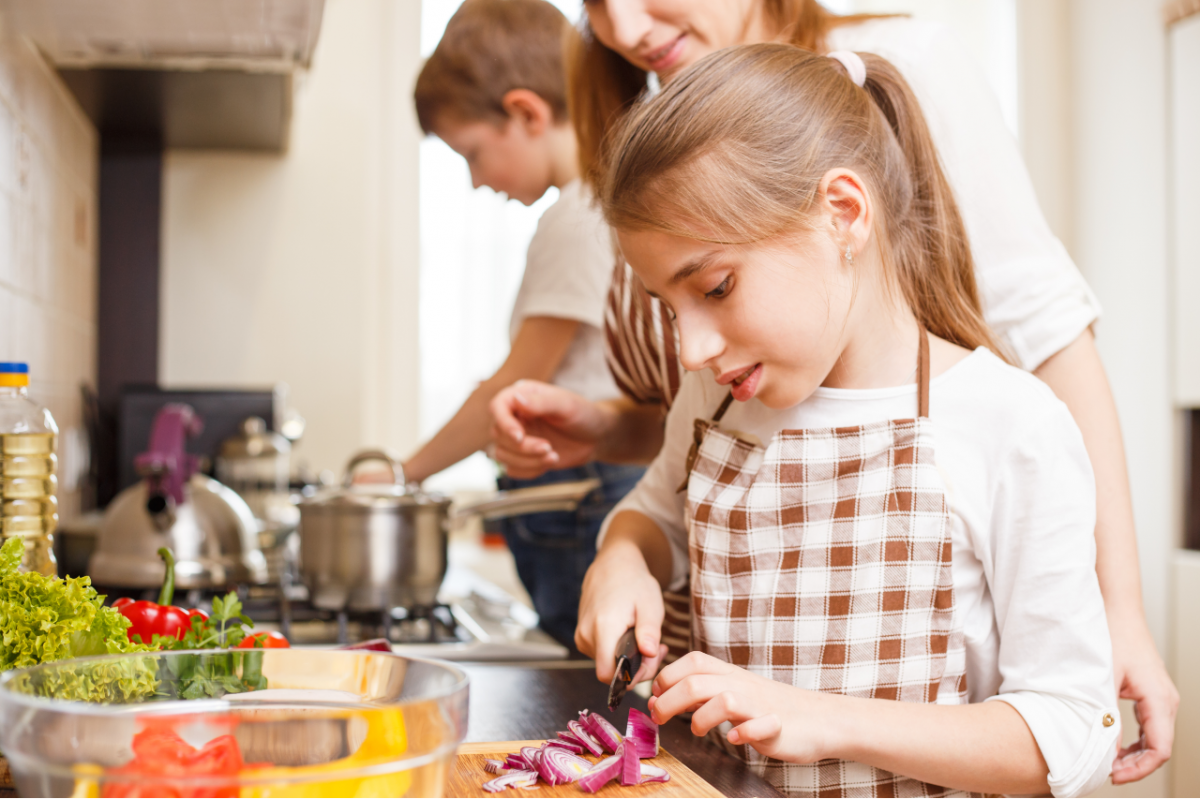 The summer season is filled with so many great things – sunshine, vacations, days at the lake, backyard parties, and all of the fresh produce!
With a relatively short growing season in the Midwest, we have to take advantage of all the fresh, local produce we can while it's available. So, today we are going to talk about shopping at the Farmer's Market at Shipshewana Trading Place and some great recipes you can cook with your kids using fresh produce.
The Farmer's Market at Shipshewana Trading Place Flea Market
Shipshewana Trading Place is home to the largest flea market in the Midwest, and we are proud to feature our Farmer's Market on the southeast side of the grounds. You can stop in and shop from the produce and plant vendors anytime throughout your shopping day with us, and take advantage of our 15-minute parking area to swing in and pick up your order on your way out.
The product selection offered by vendors in the Farmer's Market will vary throughout the season, but some common items you can often find include tomatoes, green beans, cucumbers, cherries, blueberries, watermelon, peaches, onions, potatoes, flowers, honey, jam, and baked goods.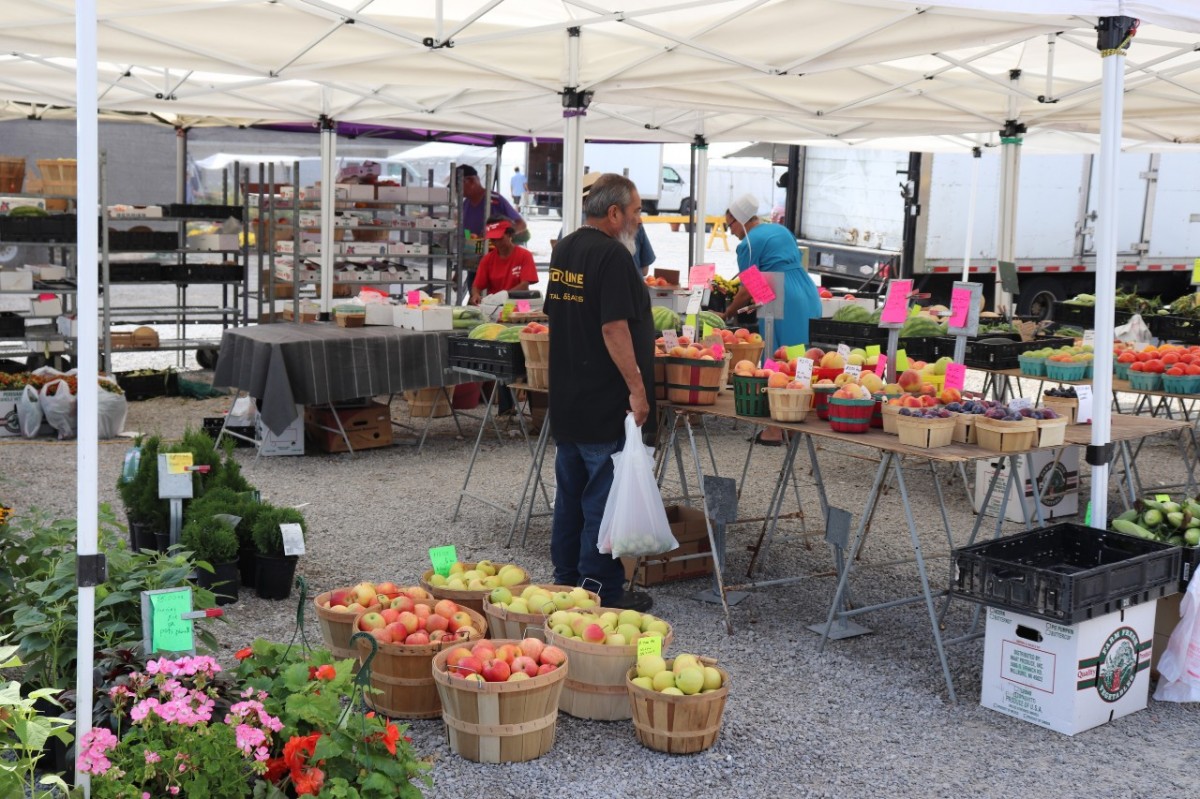 We invite you to bring your kids along to the Farmer's Market. Teach them about farming and where our food comes from, and encourage them to help you choose what to purchase. When you get home with your fresh finds, you can have fun cooking together.
Whether your child is a toddler or a teenager, there are plenty of ways you can get them involved in the kitchen.
Toddlers can help wash produce, stir ingredients in a bowl, and decorate things with toppings. As children get a bit older, you can determine when it's safe for your child to learn how to use a knife. At that point, they can help you chop vegetables, put items on skewers, and begin to learn how to use the stove. Eventually, as they get older and more comfortable in the kitchen, they can help with more advanced dinner recipes (or even just make dinner FOR you!)
Here are some great suggestions for things you can make with your kids. We are listing them in order of difficulty, so you can start at the top of the list if your kids are young.
1 - Fun Celery Sticks
There are lots of fun ways you can prepare celery sticks to encourage kids to eat them. These work great in their lunch box, too! Some ideas include peanut butter with raisins, hummus with black olives, and cream cheese with nuts. Kids can help stuff the filling into the celery sticks with a kid-safe knife, and they can decorate them with the toppings.
2 - DIY Pizza
Kids can have fun helping you put sauce and toppings on a homemade pizza – especially when everyone can choose their own combinations. You can buy or make the crust, or some fun alternative crusts for kids include English muffins, tortillas, or French bread slices.
3 - Fruit Bowls
Kids can help you wash the fruit and when they are older, help you cut it too. You can mix a variety of fruit into a bowl and serve with yogurt sauce or pudding. Kids will also have fun topping the bowls with granola! For an alternative kitchen project, make a shortcake to go with the fruit instead.
4 - Smoothies
Smoothies make a healthy breakfast or snack, and again you kids can help you wash and later cut the fruit. Smoothies are extra delicious when made with frozen fruit, so they could also help you lay your chopped fruit out on a parchment-lined baking sheet to freeze for a couple of hours before blending. After blending your fruit with yogurt and juice, serve in colorful glasses with fun straws and enjoy!
5 - Kebabs
Kids have fun putting fruit and/or vegetables on skewers for the grill. Onions, peppers, mushrooms, and zucchini all work well on kebabs – but feel free to get creative and make your own combination. You can also add meat to the skewers if you wish — that's a great opportunity to teach your kids about safely handling raw meat. For fruit skewers, pineapple or watermelon work well on the grill and can be glazed with a dash of honey and cinnamon or chili powder, depending on your preference.
6 - Tacos
Tacos can be made with tortillas or lettuce leaves. Whatever "shell" you choose, there are plenty of vegetables that kids can wash, dice, and help you prepare for taco night. Lettuce, tomatoes, peppers, and onions are common taco ingredients. Maybe instead, you opt for fish tacos and make coleslaw and quick-pickled radishes. You can also add a jar of salsa to your basket while you are shopping.
7 - Stir Fry
Stir fry is a really great meal to make when all of this amazing produce is in season. Mushrooms, onions, peppers, broccoli, cabbage, carrots, snow peas, and zucchini all work great in a stir fry dinner – but you don't have to stop there! Add your meat and stir fry sauce of choice and you have an easy and fresh dinner. This is a great meal for the kids to help with once they can handle a knife because it includes lots of chopping.
8 - Vegetable Pasta
Pasta and vegetables is also a great meal idea for kids to help with once they have established some knife skills. You can opt for a cold pasta salad loaded with vegetables, or turn it into a hot pasta dinner with cream sauce.
9 - Eggplant Parmesan
When your older kids are ready to impress you with a homemade dinner, eggplant Parmesan is a great one! It involves slicing the eggplant and coating it with a crumb and cheese mixture before frying in olive oil and layering it in a pan with sauce to bake. It's a time-intensive meal, so consider buying a few eggplant so they can make one pan to eat now and one to freeze for later.
Hopefully, these ideas were able to help you get a shopping list started for your next visit to our market. We are certain you will think of even more fun ideas as you are shopping with us. The Farmer's Market at Shipshewana Trading Place is open every Tuesday and Wednesday, May through September, from 8 a.m. to 4 p.m. There are also some select weekend and holiday hours. We hope to see you soon!