15 Best Things to Do in Shipshewana, Indiana
Post Date: Jan 01, 2019
Shipshewana brings simple living, Amish hospitality, amazing shopping, and fun activities to Northern Indiana.
1. Shipshewana Auction & Flea Market
Love finding a good bargain? You'll want to shop the 26 aisles of vendors at the huge outdoor market in Shipshewana.
Known as the "Midwest's Largest Flea Market," people from all over the country come to find deals on everything under the sun. Be sure to watch their hours though - the flea market is seasonal and open every Tuesday & Wednesday from May through September.
Visitors can also bid on antiques & vintage finds in the Antique & Miscellaneous Auction Building on property - which has 10 auctioneers simultaneously selling every Wednesday, year-round.
For more information about visiting the Shipshewana Auction & Flea Market, download the Flea Market's Trip Planning Packet.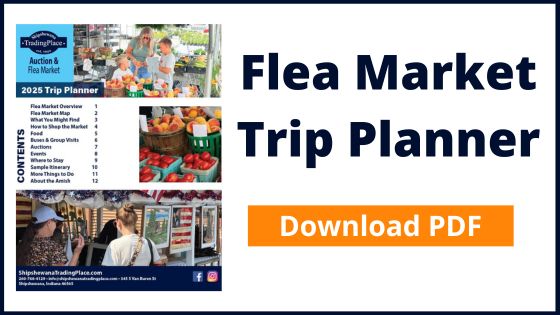 2. Blue Gate Restaurant & Theatre
To enjoy some of the best Amish\Mennonite cooking around, watch outstanding entertainment, or shop for locally crafted furniture, look no further than the Blue Gate Restaurant & Theatre.
After indulging in their famous home-style cooking, you'll want to take a stroll around the beautiful Blue Gate property - complete with a wrap-around porch that is always tastefully decorated for the season. Be sure to catch one of their award-winning musicals or concerts, and shop the bakery or one of their specialty shops.
3. Amish In-Home Dining
If you want an authentic "Amish Country" experience, you'll want to enjoy dinner at an Amish home. Not only is the food amazing, but so is the hospitality! Get all of your questions answered about Shipshewana's heritage by conversing directly with the Amish.
Try booking a meal at Hoosier Banquets, an Amish Dining experience that can serve large groups. Or, reserve a Meal Tour with Miller's Buggy Line where you can ride in a Amish buggy through Amish country in and around Shipshewana culminating in a Thrasher's Meal in an Amish home with all the fixings!
4. Heritage Ridge Creamery
Taste some delicious, fresh cheese that starts with high-quality milk from local Northern Indiana dairy farms, plus watch the cheese-making process right on site at the Heritage Ridge Creamery.
Cheeses made at the creamery include colby, colby-jack, pepper-jack, cheddar, garden vegetable cheese, sriracha cheese and amish cream.
5. Dutch Creek Farm Animal Park
Dutch Creek Farm Animal Park in Shipshewana will give you an absolutely unforgettable experience petting and feeding a huge variety of animals - from camels to ostriches to zebra!
Owned and operated by an Amish family, Dutch Creek gives visitors the opportunity to take a wagon ride through the fields where both exotic and farm animals will come right up to you to be fed.
6. Rise 'N Roll Bakery
Famous for their cinnamon caramel donuts (yeast raised donuts covered in a homemade caramel icing and powdered with cinnamon), Rise 'N Roll Bakery & Deli in Middlebury is a must stop for everyone in Indiana's Amish Country. They have some of the highest quality handmade baked goods around.
Browse through the store and you'll find cinnamon rolls, pecan sticky buns, breads, pies, cookies and more. Plus, the deli offers breakfast and lunch to eat in or take out. Rise 'N Roll also has a selection of gluten-free products.
7. Downtown Shipshewana
You are guaranteed to find a shop or cafe to love in downtown Shipshewana. Take a stroll down Harrison Street and you'll find so many amazing shops with home decor, crafts, and more. At the end of the street, there is the Davis Mercantile with lots of shops inside including JoJo's Pretzels, Aunt Millie's Chocolate & Candy, and a coffee shop!
Downtown Shipshewana is a must-see during Christmas time as well. The stores have amazing lights and lots of family-friendly Christmas events to help you celebrate the season the traditional way.
With so much to do, you'll want to stay overnight and the Farmstead Inn, a beautiful Amish Inspired hotel, is conveniently located in the heart of Shipshewana, within walking distance to downtown shopping and area attractions, and directly across the road from the Midwest's Largest Flea Market & Auction.

8. Menno-Hof Amish/Mennonite Information Center
Menno-Hof is a non-profit information center in Shipshewana that teaches visitors about the faith and life of Amish and Mennonites.

Menno-Hof's multi-image presentations, historical environments and colorful displays take visitors on a fascinating journey inside the unique world of the Amish and Mennonites. Visitors see where the Anabaptists had their beginning in a Swiss courtyard and how they were persecuted for their faith in the dungeon. They then travel with the Anabaptists down the cobblestone streets of Holland and board a 17th century sailing boat on a journey to America and freedom.
9. Amish Country Guided Tours
There's no better way to get up close and personal with the Amish than to go on a group guided tour. Some of the activities on a tour include visits to working farms, shops and homes.
There are a variety of Amish tour guides to choose from. Some visitors' favorites include Buggy Lane Tours, Cathy's Countryside Tours, Blue Gate Tours or Miller's Buggy Line Tours.
10. Barn Quilt Trail or Walldogs Trail
View over 30 hand-painted quilt murals on the LaGrange County Barn Quilt Trail, or learn about the town's heritage by viewing 16 wall murals painted by the "Walldogs." Each one is unique and tells a different story!
11. E&S Sales
Although shopping this Amish-owned bulk foods store may not seem like a typical Amish Country vacation destination, once you enter, you will understand why this is a must-experience!
E&S Sales has unbelievable deals, a huge variety of foods and baked items, and an awesome bakery offering favorites like whoopie pies, fried pies and cinnamon rolls. The foods available at this grocery store is so unique...you'll find many items that you've never seen before.
12. Yoder's Meat & Cheese
This store is known for offering over 80 kinds of cheese and 20 varieties of smoked meats. The meats and cheeses and made right on the premises for freshness and quality. Shoppers can sample the many varieties and also shop the Yoder's Meat & Cheese market to find quality jams, noodles, popcorn, candies, salsas and more. It's recommended to bring a cooler for all of your foodie finds.
While you're there, head next door to the Yoder's Red Barn Shoppes for even more quality shopping.
13. Das Dutchman Essenhaus
Known for its pies, the Das Dutchman Essenhaus is Indiana's largest restaurant. It's located in Middlebury, Indiana (just a short drive from Shipshewana), and serves homestyle American fare. Visitors can order from the menu, eat at the buffet, or get served family style! Favorites include chicken and noodles, burgers and breaded pork tenderloins.
The Essenhaus also has gift shops, a bakery, classic car cruise-ins, a theatre and more.
14. Yoder's Shopping Center
For unique shopping experiences all under one roof, visit Yoder's Shopping Center. There is a department store inside with an amazing shoe selection...complete with old-fashioned shoe salespeople who will measure your feet! If you're looking for quirky novelties or housewares, there is also a Hardware store that one could spend hours in.
Relax in a rocking chair (a perfect people-watching station), get some ice cream, coffee or homemade confections at Naomi's Candies and Cafe or shop The Cotton Corner that is inside as well featuring Bernina sewing machines and other quilting supplies.
15. Shipshewana's Lights of Joy Christmas Drive-Thru
Shipshewana's Lights of Joy is an amazing Christmas light drive-thru park with over two million LED lights.
The whole family will love setting their radios to Christmas music while they see dozens of spectacular holiday light scenes on this 1.5-mile track.
These are just a few of the amazing group-friendly things to do in Shipshewana.
Want more information on planning a trip to Shipshewana, Indiana? Download our free trip planning packet.