15 Best Things to Do in Shipshewana, Indiana in 2023
Post Date: Oct 24, 2022
Shipshewana is right in the heart of Indiana's Amish Country. As you drive in, the scenic landscapes set the stage for a relaxing and rewarding getaway. With simple living, Hoosier hospitality, and amazing shopping, this corner of northern Indiana is a destination you'll want to come back to again and again.
Whether you're planning a quick trip or an extended stay, here's a list of 15 things that should be near the top of your list.
1. Shipshewana Auction & Flea Market
Find great bargains, unique items, and hidden treasures at the Shipshewana Auction & Flea Market. With 26 aisles and nearly 700 vendors, this is a gem you don't want to miss.
Known as the "Midwest's Largest Flea Market," people from all over the country come to this outdoor flea market to find deals on everything under the sun. Before you make the trip, be sure to check the dates and hours. The flea market is seasonal, open every Tuesday and Wednesday from May through September plus extended dates.
You can also bid on a wide range of items ranging from antique toys to vintage signs at the auction. With six to nine live auctioneers simultaneously selling every Wednesday, there's always something to see at this live auction year-round.
Additional opportunities include:
When it's time for a break, you can enjoy a delicious meal at the Shipshewana Auction Restaurant where you'll find weekly specials that include local favorites such as homemade chicken and noodles, hamloaf and meatloaf, and hand breaded tenderloins and fish. They also serve up some amazing pies in many flavors. Not-to-mention breakfast favorites like the haystack, omelettes, and fried mush. Plus, book a room at the local Farmstead Inn and enjoy Amish country relaxation with all the added amenities.
To get the most out of your visit, download the Flea Market's Trip Planning Packet.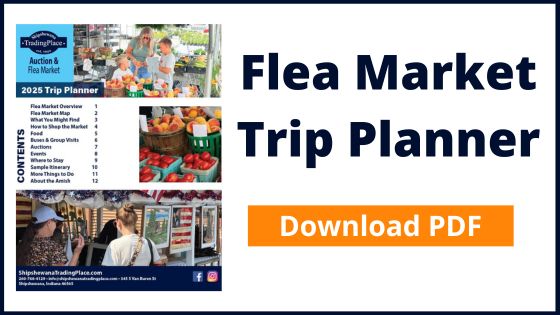 2. Blue Gate Restaurant & Theatre
To enjoy some of the best Amish & Mennonite cooking around, watch world class entertainment, and shop for locally crafted furniture, look no further than the Blue Gate Restaurant & Theatre.
After indulging in their famous home-style cooking, take a stroll around the beautiful Blue Gate property - complete with a wrap-around porch that is always tastefully decorated for the season. Before you catch an award-winning musical or concert, you can treat yourself at the bakery and enjoy a carriage ride.
3. Amish In-Home Dining
The best way to get the full Amish Country experience is to enjoy dinner in an Amish home. Not only is the food amazing, but so is the hospitality! It's a great opportunity to get your questions answered about Shipshewana's heritage.
Book a meal at Hoosier Banquets, an Amish dining experience that can serve groups of up to 100 people. You can also reserve a meal tour with Buggy Lane Tours. With 5 options for tours, you can choose your experience in scenic Amish Country around Shipshewana, culminating in an authentic meal with all the fixings. It's a one-of-a-kind, immersive experience!
4. Heritage Ridge Creamery
Heritage Ridge Creamery is a must for all cheese lovers. You can sample a variety of delicious options, watch the cheese-making process right on site, and shop other Amish specialty foods.
5. Dutch Creek Farm Animal Park
Shipshewana's Dutch Creek Farm Animal Park is perfect for the whole family. With a mix of both exotic animals and familiar farm animals, it's unlike any other zoo you've ever visited.
You can walk through, drive through, or enjoy a wagon tour. Be sure to check the seasonal operating hours before planning your visit.
*Dutch Creek Farm is a Seasonal Attraction
6. Rise 'N Roll Bakery
Famous for their cinnamon caramel donuts, Rise 'N Roll Bakery & Deli in Middlebury is an essential part of your Amish Country getaway. They offer some of the highest quality handmade baked goods you'll ever eat.
Browse through the store to find cinnamon rolls, pecan sticky buns, bread, pies, cookies, and more. Plus, the deli offers a variety of breakfast and lunch options.
7. Downtown Shipshewana
You are guaranteed to fall in love with a shop or cafe in downtown Shipshewana, IN. Take a stroll down Harrison Street and you'll find amazing shops with home decor, crafts, and more. At the end of the street, you'll see Davis Mercantile with lots of Shipshewana stores inside including JoJo's Pretzels, Aunt Millie's Chocolate & Candy, and a coffee shop.
Downtown Shipshewana is a must-see during Christmas as well. The stores have amazing lights and plenty of family-friendly Christmas events to help you celebrate the season the traditional way.
With so much to do, you'll want to stay overnight at the Farmstead Inn, a beautiful Amish- inspired hotel. It's conveniently located in the heart of Shipshewana, within walking distance to downtown shopping and area attractions. The Farmstead Inn is also directly across the road from the largest flea market and auction in the Midwest.

8. Menno-Hof Amish/Mennonite Information Center
Your trip to Amish Country can also be educational. Menno-Hof is an information center in Shipshewana that teaches visitors about faith and life.
With multi-image presentations, historical environments, and colorful displays, take a fascinating journey inside the unique world of the Amish and Mennonites. You'll see the humble beginnings of the Anabaptists in a Swiss courtyard and witness how they were persecuted for their faith in the dungeon. Then, you'll travel with the Anabaptists down the cobblestone streets of Holland and board a 17th century sailing boat on a journey to America and freedom.
9. Amish Country Guided Tours
There's no better way to get up close and personal with the Amish than to go on a guided tour. You'll visit working farms, shops, and homes. Some visitor favorite tour options include:
10. Barn Quilt & Mural Trails
View over 30 hand-painted quilt murals throughout LaGrange County by following the Barn Quilt Trail. You can also be on the lookout for all 16 of the Walldog Murals. Created by a team of talented artists in 2014, each wall mural helps tell the community's story. Exploring these art trails is an excellent way to experience Shipshewana at your own pace.
11. E&S Sales
Visiting this Amish-owned bulk foods store may not seem like a typical vacation destination, but once you walk inside, you will understand why it is a must.
E&S Sales offers a variety of options ranging from home-style noodles to 75 different kinds of cheese. In the bakery, you'll find favorites like whoopie pies, fried pies, and cinnamon rolls. With so many unique items on the shelves, be sure you stop by.
12. Yoder's Meat & Cheese
Yoder's Meat & Cheese brings the farm right to you. With 150 cuts of meat and over 100 varieties of cheese, make sure you come hungry. You can also browse a variety of jams, noodles, popcorn, candies, salsas, and more.
13. Das Dutchman Essenhaus
Your visit to Shipshewana isn't complete without enjoying a meal at the largest restaurant in Indiana. Located just a short drive away in Middlebury, the Das Dutchman Essenhaus is known for its pies and serves homestyle American food. You can order from the menu, eat at the buffet, or get your order served family style! Favorites include chicken and noodles, burgers, and breaded pork tenderloins.
The Essenhaus also has gift shops, a bakery, classic car cruise-ins, a theatre, and more.
14. Yoder's Shopping Center
For unique shopping experiences all under one roof, visit Yoder's Shopping Center. You'll find a department store inside with an amazing shoe selection. If it's quirky novelties or housewares you're after, don't miss the hardware store.
You can relax in a rocking chair (which is perfect for people-watching) before you get some homemade baked goods, including gluten free and sugar free options, or a cup of organic, air roasted coffee at The Dutch Coffee Cup. Also, stop by The Cotton Corner which features sewing machines and other quilting supplies.
15. Shipshewana's Lights of Joy Christmas Drive-Thru
Shipshewana's Lights of Joy is an amazing Christmas light drive-thru park with over two million LED lights. The whole family will love setting the radio to Christmas music as you cruise through dozens of spectacular holiday light scenes on this 1.5-mile track.
Want more information on planning a trip to Shipshewana, Indiana? Download our free trip planning packet.