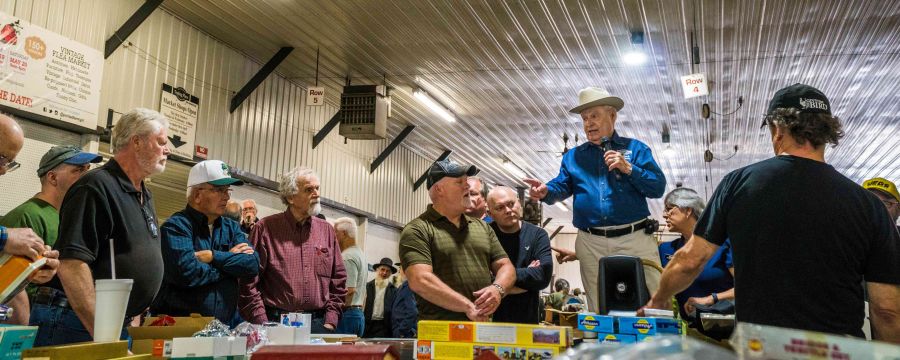 Weekly Misc. & Antique Auction
Wednesday, June 13th
9:00 AM - 1:00 PM
The Shipshewana Miscellaneous & Antique Auction is held every Wednesday, year-round in the Misc. & Antique Auction Building. The auction starts by the sound of the bell at 9:00 a.m. sharp! Six to ten auctioneers will take up the auction cry and simultaneously sell antiques, collectibles, estate items, primitives, glassware, furniture, architectural salvage, and so much more. Our main market thrust is for the better quality antique and collectible type items, however as one of our old time auctioneers, Argie, used to state, "We sell anything from soup to nuts!"
An average auction will take auctioneers from 9:00 a.m. until 1:00 p.m. - 3:00 p.m. in the afternoon. The auction is held in the Antique & Misc. Auction Building ( an 80' by 200' enclosed facility, heated in the winter for your comfort and made to open in the summer). Restrooms and the Auction Snack Bar are located in the auction building for your convenience.
View Photos & Listings on AuctionZip.com
Buyer Information
Previewing / Inspecting Merchandise: Buyers may preview items in person on Tuesdays (7 am - 5 pm) and Wednesdays (5:30 am to auction time). Buyers can also preview photos and listings online at auctionzip.com. Item photos are taken and posted online by 5 pm every Tuesday. View a map of the auction building.
Buyer Numbers: Buyer numbers are required for bidding and for making payments. Visit the Misc. & Antique Auction Office during office hours (open Tuesdays & Wednesdays) to register for a buyer number with a valid driver's license. There is a $5.00 Buyer Card Fee; additional cards are $1.00. Buyer cards are valid for one calendar year, and new cards are required each year.
Bidding: The minimum opening bid accepted is $5.00 per item, per choice, or per grouping of merchandise offered for auction. All items, unless otherwise stated, are sold with a reserved bid. Remember, all merchandise is sold "as is" or as represented by consignor only. Please show the clerk and auctioneer your buyer number card when bidding.
Terms of Sale: We accept cash, check, Visa, Mastercard, or Discover. There is a 5% buyers premium on purchases, which will be waived if you pay with cash or check. Sales tax will be collected on all purchases unless a sales tax number is registered in the office. All purchases must be paid for day of. No private exchange of merchandise between buyers and consignors. A penalty may be imposed for this violation.
Parking: A parking permit or fee at the entrance is required from Memorial day thru September and is collected by the gate attendant. Enter from the North or West gate for preferred auction parking. Season preferred parking permits are available to purchase in the Miscellaneous Office for $35.00.
Are you a new bidder or have never been to Shipshewana Auction? Read these Auction Buying Tips, Or watch Chuck's Antique Auction Tip videos before coming.
Seller / Consignor Information
Call or visit the office to reserve an auction selling spot! 260-768-4129.
Antiques & Collectibles sell the best at auction, although we accept all kinds of merchandise. Shipshewana Auction Inc. has the right to reject any article to be offered for auction. No guns, gun parts, or live ammunition are to be offered for auction. This includes BB, air, black powder, starter guns or any other type of gun or firearm. Toy guns may be offered such as cap guns or any other type of toy gun.
Auction spaces are available on a first-come, first-served basis or reserved ahead. Most are reserved in advance through the auction office, or by calling 260-768-4129. There is a consignment fee of $10 to $20 per space (depending on space location). There is no guarantee of selling time or auctioneer.
Size of most auction spaces are approximately 7' x 9' and some are approximately 9' x 12'. Tables, lighted showcases, electricity, and pegboards are available for additional fees.
Consignment fees are $10.00 to $20.00 per seller spot. Commissions are based on both gross sales and lot averages. View Commission Chart.
Unloading / Set Up: Unloading times are Tuesdays (7 am - 5 pm) and Wednesdays (5:30 am - 7 am). Park where directed or in a valid parking space. Check in with auction personnel, and you and your vehicle will be directed to your auction location. Side and overhead doors are to be operated by authorized personnel only. Spots must be occupied by 7 am on Wednesday to avoid possible reissuing.
Advertising: We advertise our weekly sale in Antique Week, Auction Exchange, AuctionZip.com and more. On Tuesday afternoons during unloading / set up, a Shipshewana Auction staff member will photograph items for the sale. Photos are uploaded to AuctionZip.com and captioned with the item's location unless otherwise directed. Sellers may submit photos or auction listing information in advance! To submit photos or listings, please email your sale date, location number, listings and photos to Anna at anna@shipshewanatradingplace.com.
Auction Time Procedure: All consignors are responsible for representing their own items (handling merchandise at auction time.) If you need us to recommend someone to represent your items (for a fee), please call the office at 260-768-4129. Minimum opening bid is $5.00. We encourage you to sell all items to the highest bidder, although you as a seller have the right to "no sale" items or to offer items on a reserve bid.
Seller Payout: Sellers at Shipshewana Auction get paid right away. Our goal is to have your checks available one hour after your last item is sold.