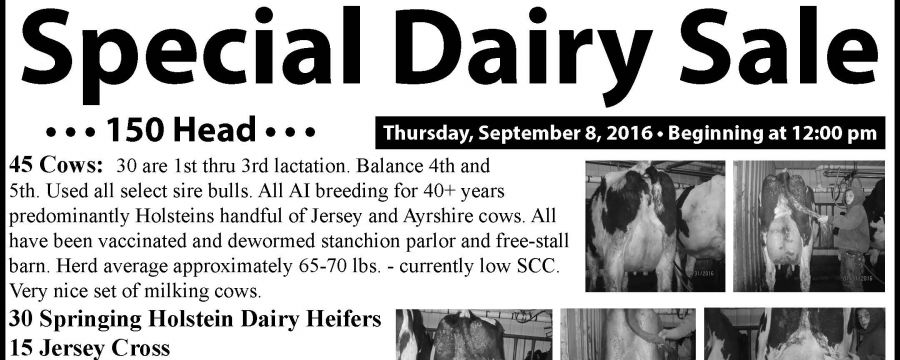 150 head will be auctioned off at this special dairy sale in the Shipshewana Auction Sale Barn (345 S Van Buren St, Shipshewana IN 46565) on Thursday, September 8, 2016 starting at noon.

45 Cows: 30 are 1st thru 3rd lactation. Balance 4th and 5th. Used all select sire bulls. All AI breeding for 40+ years predominantly Holsteins handful of Jersey and Ayrshire cows. All have been vaccinated and dewormed stanchion parlor and free-stall barn. Herd average approximately 65-70 lbs. - currently low SCC. Very nice set of milking cows.
30 Springing Holstein Dairy Heifers
15 Jersey Cross
15 Fresh Cows: 60 days or less in milk.
18 AI Holstein Heifers: 400 lb.
30 Breeding Age Heifers

Contact Dairy Consultant Tye Casey: (574) 930-0450 or Joe Zehr: (574) 825-9065.