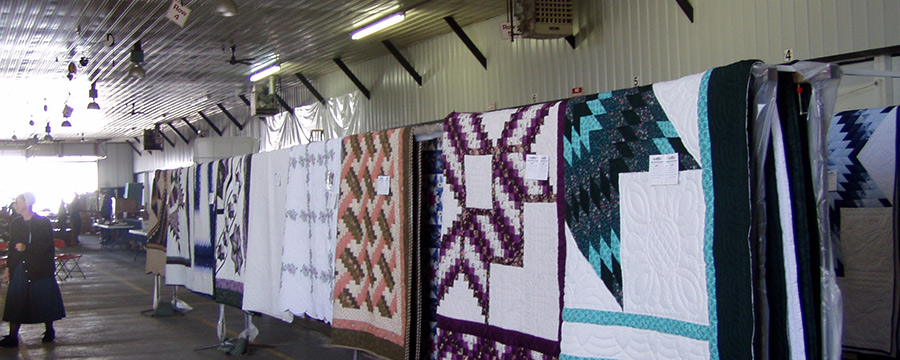 Haiti Benefit Auction
Friday, May 26th - Saturday, May 27th

36th ANNUAL INDIANA HAITI BENEFIT AUCTION
LOCATED: at the Shipshewana Auction Antique Building, 1 ¼ mile north of US 20 on SR 5.
ADDRESS: 345 S Van Buren St, Shipshewana, IN 46565
FRIDAY, May 26 OPEN HOUSE starting at 4:00pm
Bake Sale, Mississippi Catfish & pulled pork sandwich dinners starting at 4:00 pm
Homemade & soft serve ice cream, fresh meat sale, baked goods, & other foods
Live Auction and Gospel Singing by Neuenschwander Family --- 6:00pm to 8:30pm
SATURDAY, May 27
Breakfast – 6:00-10:00am (pancakes, sausage, eggs, mush, gravy, & homefries)
Food Stands open at 8:00am; Pies, Ice Cream, Soft Pretzels, Bake Sale, Produce, & Flowers
Lunch 10:00 to 1:00 includes; Dan's Fried Fish, BBQ Chicken, Hamburgers, & more
SATURDAY Auction begins at 8:00 AM
Tool auction begins at 9:00am in the tent
Quilt auction begins at 9:30
Outside larger items begin at 1:00pm
BUGGIES, FARM EQUIPMENT, BOAT, SHOP TOOLS, HAND TOOLS, HARNESS,
BIKES, OUTDOOR LAWN FURNITURE, NURSERY ITEMS, LAWN & GARDEN ITEMS
BUGGIES, JD TRACTOR, BOAT & SHEDS
2 Seater Classic Cruiser, queen size buggy, John Deere A tractor, 16' Lowe boat & trailer with 35hp Mercury motor, power tilt & power start, 35# thrust trolling motor (both trailer & boat have titles), mini barn, Centra Series 30'x40'x10' bolt up steel building,
QUILTS
Expecting about 75 quilts, wall hangings, comforters, and baby blankets in various sizes and colors. Some of these are single hand quilted.
FURNITURE
5 pc. oak bedroom suite, bedroom suites, QSWO queen size bed, oak king size bed, 6 oak table with chairs, maple Formica top table w/2 leaves & chairs, hand crafted marble machine, blanket chest, coffee table, library table, benches, bar stools, hickory rocker, bookcases, plant stands, love seat, corner bookcase, wall clothes rack, scaled covered bridge, dolls, & lots of misc. craft items
LAWN & GARDEN, PEDAL TRACTORS, & TOOLS
Toro lawn mower, Honda geneator, 4 person glider, John Deere 720 pedal tractor, IH 1206 pedal tractor, Milwaukee hand tools, lots of hand tools, lawn tools
TREES, SHRUBS, & FLOWERS
There will be a variety of trees, shrubs, & flowers available.
FRESHLY FROZEN MEATS & CHEESE
There will be a variety of frozen meat and cheese available.
CERTIFICATES
Bed & Breakfast stays, Thrasher Supper, dinners & lots more
Children's Barrel Train Rides
If you have items that you want to donate, please bring them to the auction site Friday from 10:00am – 6:00pm, Saturday morning, or contact one of the people listed below for pickup. All auctioned items need to be removed from auction site by Saturday evening.
For more information about the auction, contact any of the following committee members; Daniel Shaum - 574-354-0792, Leroy Martin – 574-596-2753; James Miller – 260-350-1919; Scott Sensening – 219-670-2500
Local Auctioneers will be donating their services to conduct this auction.