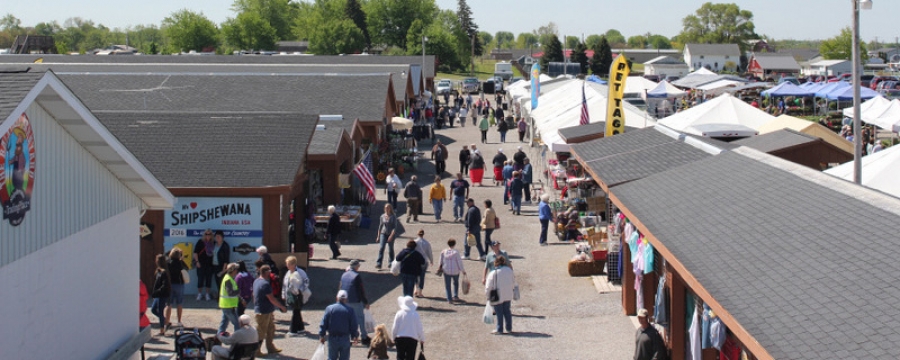 Flea Market Open
Tuesday, September 12th
8:00 AM - 5:00 PM
8:00 AM - 5:00 PM
Shipshewana Flea Market, 345 S Van Buren St
The Shipshewana Flea Market is a do-not-miss Hoosier tradition with nearly 900 booths in an open-air market covering 100 acres. The market is open every Tuesday and Wednesday from 8 a.m. to 5 p.m., May 2 through September 27.
Vendors offer a variety of products and truly have something for everyone - fresh seasonal produce, crafts, home decor, quirky novelties, dollar items, clothes, garden decor, antiques, cleaning supplies, beauty essentials, paper goods, jewelry, snacks, tools, accessories, games, books, toys, furniture, baked goods, signs, silk flowers, t-shirts, pet supplies, As Seen on TV products, party supplies, dip mixes, doll clothes, and everything in between. Open rain or shine. There are food courts, a sit-down restaurant and rest areas throughout the market. General parking is $3 per vehicle.
Stop by the information booth to sign up for daily drawing giveaways! Scooter rental is available. Open rain or shine. Some vendors accept credit cards, but some are cash only. Free wifi.
Want to see where a product or vendor is located? Download the free Shipshewana Flea Market mobile app for a vendor directory by searching "Shipshewana Trading Place" in the Google Play or App Store.
Interested in becoming a vendor? View booth rates and information.
The "FLEA"ture - Open June-Sept 2017
Visit the all-new unique vendor village within the heart of the Shipshewana Flea Market! Opens in the exhibition area of the market in June 2017.
1st Week Each Month: SHABBY CHIC
June 6-7; July 3-5; Aug 1-2; Sept 4-6
Items that have been upcycled/repurposed including furniture, signs, décor & more.
2nd Week Each Month: LOCAL CRAFTS
June 13-14; July 11-12; Aug 8-9; Sept 12-13
Handmade crafts, artisan goods, and gifts. Also showcasing items and/or stores from Shipshewana and the surrounding areas.
3rd Week Each Month: JEWELRY & BOUTIQUE CLOTHING
June 20-21; July 18-19; Aug 15-16; Sept 19-20):
Jewelry of all kinds and the latest trends in boutique clothing.
4th Week Each Month: ANTIQUES & COLLECTIBLES
June 27-28; July 25-26; Aug 22-23; Sept 26-27
Antiques & vintage items that have stood the test of time, that you remember seeing as a child, or you heard stories from your grandparents about.
5th Week (August Only): JUNK IN THE TRUNK
August 29 & 30
Sell your garage sale items, crafts, or junk! Sellers are encouraged to drive vehicles onto their space and sell from their trunks. More details on Junk in the Trunk to come soon.