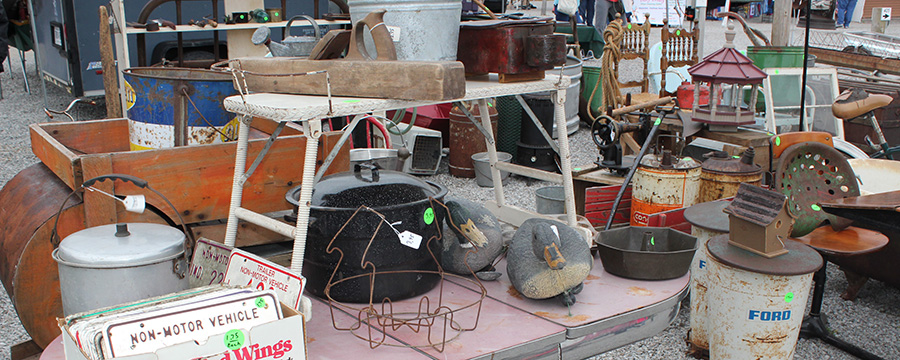 The "FLEA"ture
June 2017 Monthly Theme
The "FLEA"ture is a mini market village in the Shipshewana Flea Market where vendors get together and sell some of the most requested and unique items. It will be open June through September for the 2017 flea market season and will be located in the exhibition area close to the center of the market. See map. The FLEAture will have vendors in both covered and outdoor spaces. There are 30-40 vendor spaces.
Each week of each month will have a different product "theme" covering the most requested and unique items.
The "FLEA"ture Themed Week Calendar
1st Week Each Month: SHABBY CHIC
June 6-7; July 3-5; Aug 1-2; Sept 4-6
Items that have been upcycled/repurposed including furniture, signs, décor & more.
2nd Week Each Month: LOCAL CRAFTS
June 13-14; July 11-12; Aug 8-9; Sept 12-13
Handmade crafts, artisan goods, and gifts. Also showcasing items and/or stores from Shipshewana and the surrounding areas.
3rd Week Each Month: JEWELRY & BOUTIQUE CLOTHING
June 20-21; July 18-19; Aug 15-16; Sept 19-20):
Jewelry of all kinds and the latest trends in boutique clothing.
4th Week Each Month: ANTIQUES & COLLECTIBLES
June 27-28; July 25-26; Aug 22-23; Sept 26-27
Antiques & vintage items that have stood the test of time, that you remember seeing as a child, or you heard stories from your grandparents about.
5th Week (August Only): JUNK IN THE TRUNK GARAGE SALE WEEK
August 29 & 30
Sell your garage sale items, crafts, or junk! Sellers are encouraged to drive vehicles onto their space and sell from their trunks.
Become a "FLEA"tured vendor!
Do you know someone who would be a great vendor for the Shipshewana FLEAture?
The "Flea"ture Weekly Themed Exhibition Area Space (20' x 25') - available June through September
Outdoor Space: $45 per week
Tented Space: $95 per week
"Junk in the Trunk" Garage Sale Week - August 29 & 30
$25 a space! (Tuesday & Wednesday, August 29 & 30)
To reserve a spot in the "Flea"ture, fill out and send in a "Flea"ture Application. Questions? Call us at 260-768-4129.